The 4 Best Translation Apps for English Speakers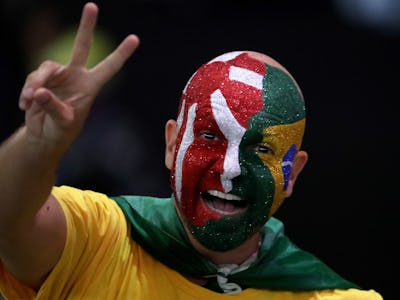 Getty Images / Friedemann Vogel
So you've booked your trip, got your passport, packed some clean pants, and thumbed through a Lonely Planet guide. But you're going to need some way to speak to the people you come across on your trip. Although instant-translation devices are getting closer and closer to reality, the real Babel fish has yet to make it out the pages of Hitchhiker's Guide. Still, even a common smartphone could be enough to help you communicate with the locals with more than just gestures. There are a lot of different applications to help English speakers learn and decipher foreign languages, but we've rounded up the best ones that will let you jump into your vacation or business venture right away. While apps like Google Translate have been around for quite a while, the features on modern translation apps extend far beyond simple text translation. Here are the four essential apps you need to fit in anywhere in the world.
Google Translate (iOS, Android)
Since Google acquired Word Lens in 2014, the company's translation app has kicked into overdrive. Users can now point their camera at text for immediate results, perfect for quick street sign scanning or restaurant menu reading. The app supports 103 languages, 52 of which can work in offline mode.
If you have an Apple Watch, you need this app. iTranslate provides easy translations from the wrist, using the microphone and speaker to provide Black Mirror-style wearable communication. A more feature-complete version of Google's offering, iTranslate also lets language nerds drill down into tense conjugations and dictionary definitions, ideal for stepping beyond direct translation and towards developing an understanding.
The app even provides in-app translations in iMessage conversations. Send out a friendly greeting to a new hostel acquaintance, or rub it in your friend's face that you're off sunning in Spain while they're stuck in the 9-5. iTranslate lets you do it all.
The app uses the same translation technology used by Bing, Twitter, and Yelp, so you know you're getting a solid approximation. It's designed with ease of use in mind, with big buttons allowing for straightforward operation. Plus, the Apple Watch app provides wrist-based translations similar to iTranslate, with the ability to pin the most important phrases to the top of the app. Need to find the bathroom quick? Pin the phrase.
Okay, so it's not quite a translation app, but Duolingo is an ideal way to get up to speed and start chatting sans mobile device. The app supports a smattering of languages, and covers the basics through a series of typing, speaking, and listening exercises. There's also a website for learning at a PC. It's not quite as easy as a straight translation app, but let's be honest, people will normally appreciate when you make the effort to learn their native language, even if you are a little rusty.