J.K. Rowling Just Confirmed 'Fantastic Beasts' Will End in WWII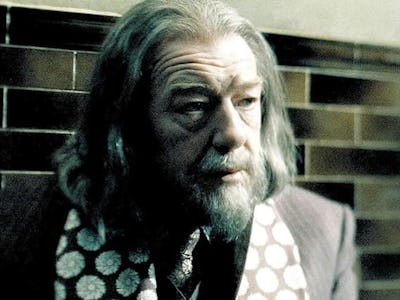 Warner Bros. Pictures
Fantastic Beasts is leading the Harry Potter universe into war, and the new series' plot will conclude with the greatest conflict in the magical and non-magical worlds: World War II. J.K. Rowling confirmed on Twitter Monday that the new five-film series will end in 1945, which most likely sets up the massive showdown between Dumbledore and Grindlewald.
Though we have some idea of what happened in the wizarding world in the time before Harry Potter, we don't have books full of details informing what we're going to see in the films like we did for the Harry Potter films.
Harry Potter gave us mentions of Grindelwald and the early days of Tom Riddle, but much of the insight we get from that time period comes from secondhand retellings from characters like Dumbledore and Mr. Ollivander or from Hermione's relayed information courtesy of her close readings of wizarding history texts.
The first Fantastic Beasts and Where to Find Them film kicks off in 1926 with Newt Scamander's arrival in New York City with a "case full of monsters." It's the catalyst that kicks off a story that will end up spanning nineteen years, covering events involving Grindelwald, young Dumbledore, and likely several more witches and wizards we met during the Harry Potter years.
Though this series of films wont cover the First Wizarding War (which began in 1970), it will certainly set the stage for it. The tensions, prejudices, and fears that primed the wizarding world for violent conflict didn't crop up overnight and they weren't the work of Voldemort alone. From the date, it seems pretty clear that the films are going to conclude with the epic battle between Grindelwald and Dumbledore, which took place on May 1, 1945.
Oh, and 1945 also just happens to be the same year Tom Riddle (aka Voldemort) graduated from Hogwarts.
Fantastic Beasts and Where to Find Them is in theaters now.