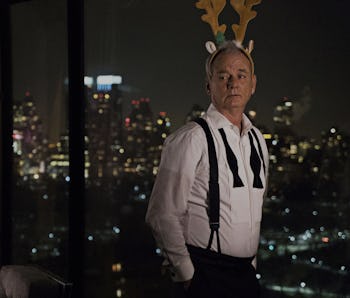 Entertainment
All 74 Christmas Movies on Netflix in December 2016
Everyone knows the best part of Christmas is Christmas movies.
The New Yorker
The holiday season is "the most wonderful time of the year," and Christmas plays an enormous part in that. Sure, Halloween is an excuse to binge horror films, you get to eat twice your weight for Thanksgiving, and New Year's will be a sending-off for a strange year, but nothing compares to the cultural phenomena that is Christmas. And one of the best parts of Christmas is Christmas movies.
Netflix knows how important Christmas movies are. That's why it will have 74 Christmas-themed films available to stream throughout the season.
Be warned: There aren't too many classics on this list. The only true "classic" Christmas movie to be found on this list is Bing Crosby and Danny Kaye's White Christmas. But modern miracles such as Christmas with the Kranks, Kevin Spacey's The Ref, and the always-loved Casper's Haunted Christmas are included, so not all hope is lost.
Below is a list of every Christmas movie available to stream on Netflix in December to help you get your Christmas fix.
12 Dates of Christmas (2011)
A Christmas Kiss (2011)
A Christmas Star (2015)
A Russell Peters Christmas (2011)
A Very Murray Christmas (2015)
Abominable Noel (2012)
All I Want for Christmas (2007)
American Rodeo: A Cowboy Christmas (2016)
An Evergreen Christmas (2014)
Angels in the Snow (2015) — Available December 1
As the Light Goes Out (2014)
Beethoven's Christmas Adventure (2011)
Bob the Builder: White Christmas (2008)
BoJack Horseman Christmas Special: Sabrina's Christmas Wish (2014)
Casper's Haunted Christmas (2000)
Christmas Cracker (2015)
Christmas Is Here Again (2007)
Christmas Miracle at Sage Creek (2005)
Christmas on Salvation Street (2014)
Christmas Ranch (2016)
Christmas Wedding Baby (2014)
Christmas with the Kranks (2004)
Christmas, Again (2014)
Curious George: A Very Monkey Christmas (2009)
DreamWorks Happy Holidays from Madagascar (2005)
Ernest Saves Christmas (1988)
Get Santa (2014)
Good Luck Charlie: It's Christmas (2011)
Happy Christmas (2014)
Hector (2015)
Hercules Saves Christmas (2011)
Holiday Engagement (2011) — Available December 1
Journey to the Christmas Star (2012)
Love Actually (2003)
Magic Snowflake (2013)
Mandie and the Forgotten Christmas (2011)
Marry Me for Christmas (2013)
Marvel Super Hero Adventures: Frost Fight! (2015)
Merry Kissmas (2015) — Available December 1
Mickey's Magical Christmas: Snowed in at the House of Mickey Mouse (2001)
Mickey's Once Upon a Christmas (1999)
Mickey's Twice Upon a Christmas (2004)
Mule-Tide Christmas (2014)
My Little Pony: A Very Minty Christmas (2005)
Noel (2004)
Pee-wee's Playhouse: Christmas Special (1988)
Pete's Christmas (2013)
Power Rangers Samurai: Christmas Together, Friends Forever (2011)
Power Rangers Super Samurai: Stuck on Christmas (2012)
Power Rangers: Megaforce: The Robo Knight Before Christmas (2013)
Ricardo O'Farrill: Christmas Special — Available December 12
Santa Buddies (2009)
Santa Paws 2: The Santa Pups (2012)
Saving Santa (2013)
Scrooged (1988)
Snow Days (2008)
The Cat in the Hat Knows a Lot About Christmas! (2012)
The Christmas Bunny (2010)
The Christmas Card (2006)
The Koala Brothers: Outback Christmas (2006)
The Perfect Wedding (2012)
The Radio City Christmas Spectacular (2007)
The Ref (1994)
The Search for Santa Paws (2010)
The Spirit of Christmas (2015) — Available December 1
Thomas and Friends: A Very Thomas Christmas (2012)
Thomas and Friends: Holiday Express (2010)
Thomas and Friends: Merry Christmas Thomas (2011)
Thomas and Friends: The Christmas Engines (2014)
Thomas and Friends: Ultimate Christmas (2009)
Trailer Park Boys Live at the North Pole (2014)
Tree Man (2015)
Uncle Nick (2015) — Available December 1
White Christmas (1954)