John Oliver's Anti-Trump Message Caused a Huge Donation Spike
Charities are reporting major donation increases since the show aired.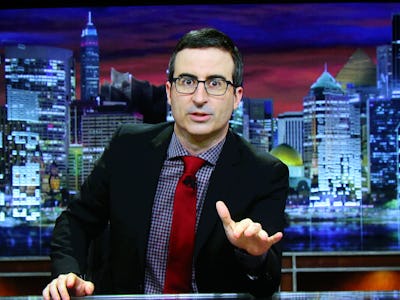 Getty Images / Frederick M. Brown
The shock election victory of Donald Trump has led to a spike in charity donations, fueled by fears that the president-elect will undo decades of progress and set campaigners back. In his most recent episode, Last Week Tonight host John Oliver called on fans to get involved with the numerous groups doing vital work. Oliver named seven groups whose work would potentially come under attack from a Trump administration, urging viewers to do their bit and set up a regular donation.
That call to action has paid off, with the Trevor Project, the International Refugee Assistance Project at the Urban Justice Center, and the Center for Reproductive Rights all reporting a huge spike in interest in the past week after the show aired. The Trevor Project, which focuses on suicide prevention in LGBTQ youth, has reported a sixfold increase in average donations since the election, with over a thousand new volunteers signed up in the week since Oliver's episode aired.
"We saw an immediate spike in visits to our website, donations, and volunteer inquiries after his show," Steve Mendelsohn, deputy executive director of the Trevor Project, tells Inverse. "John Oliver resulted in an even greater surge in interest in the Trevor Project. There is a general sense of urgency, and people want to do something to make a difference."
The Center for Reproductive Rights, which advocates for issues like access to birth control and safe abortion procedures, also reported a surge. "President-elect Trump has made it clear he's coming after Roe v. Wade, and we have seen an unprecedented influx of individuals wanting to support our vital work around the globe," Anne Matsui, chief development officer at the Center, tells Inverse. "We've had thousands of new donors in the last week, many of whom have signed on to be monthly sustainers/donors who will be with us for the long haul. It's incredibly heartening to hear their messages of support and resolve in these challenging times."
The International Refugee Assistance Project at the Urban Justice Center reported an "outpouring" of financial support and volunteer signups, all dedicated to spreading the word that refugees are welcome.
"We are honored that John Oliver chose to mention us alongside other organizations that do incredible work to protect human and civil rights," Henrike Dessaules, the project's communications manager, tells Inverse. "Our mission to enforce the legal protection of refugees is more urgent than ever."
Last Week Tonight is off the air until next year, but you can watch the episode that led to the outpouring of donations below: