'SNL' Introduces "The Bubble," a City That's Actually Just Brooklyn
Everyone is welcome, as long as you can afford the $1.9 million rent.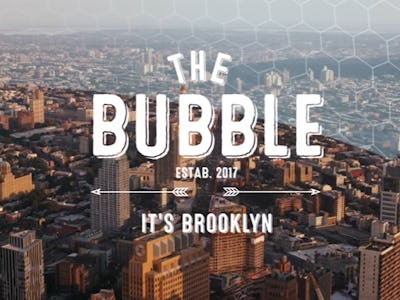 SNL
The writers at Saturday Night Live mixed a science fiction staple and cultural politics with "The Bubble," a sketch about an idyllic, utopian city that's encapsulated by a massive, glass half-sphere where "it's like the election never happened."
Leading up to the election, many people declared they would leave the country if Donald Trump was elected president. On election night, when it looked like he would win, Canada's immigration site reportedly crashed after it was flooded with visitors looking to relocate.
This skit targets the people who want to relocate, but deep down don't want to leave the United States. Starting in January, residents can opt to move to "The Bubble" instead, which is essentially a city under a dome that is its own city-state and promises to be closed off from the rest of the world.
"If you're an open-minded person, come here and close yourself in," SNL's Kyle Mooney says in the skit.
Sasheer Zamata says that the Bubble is a safe place offering one-bedroom apartments filled with liberal-friendly things such as hybrid cars, used bookstores, and small farms with "the rawest milk you've ever tasted," all for the bargain price of $1.9 million. And residents can pay for things in the Bubble with special currency, including one dollar bills that feature Bernie Sanders's face.
"We don't see color here, but we celebrate it," explains Mooney as he points to a black power button pinned to his blazer.
You won't have to worry about fake news in the Bubble, because only the best websites will be available, which according to Zamata includes The Huffington Post ("Huff Po") and the Daily Kos, in addition to Netflix documentaries about sushi rice and the "explosive" comedy of "McSweeney's."
The Bubble is "a community of like-minded free thinkers … and no one else," meaning you wouldn't be able to call on any first responders such as police or firemen in an emergency "because we haven't found any who'd agreed to live here," says Mooney.
It may be Trump's America now, but Mooney assures potential residents that "We'll be fine, right here in the Bubble."
You can join the Bubble beginning in 2017. But just as the commercial's tagline says, "It's Really Just Brooklyn. With a bubble on it!"