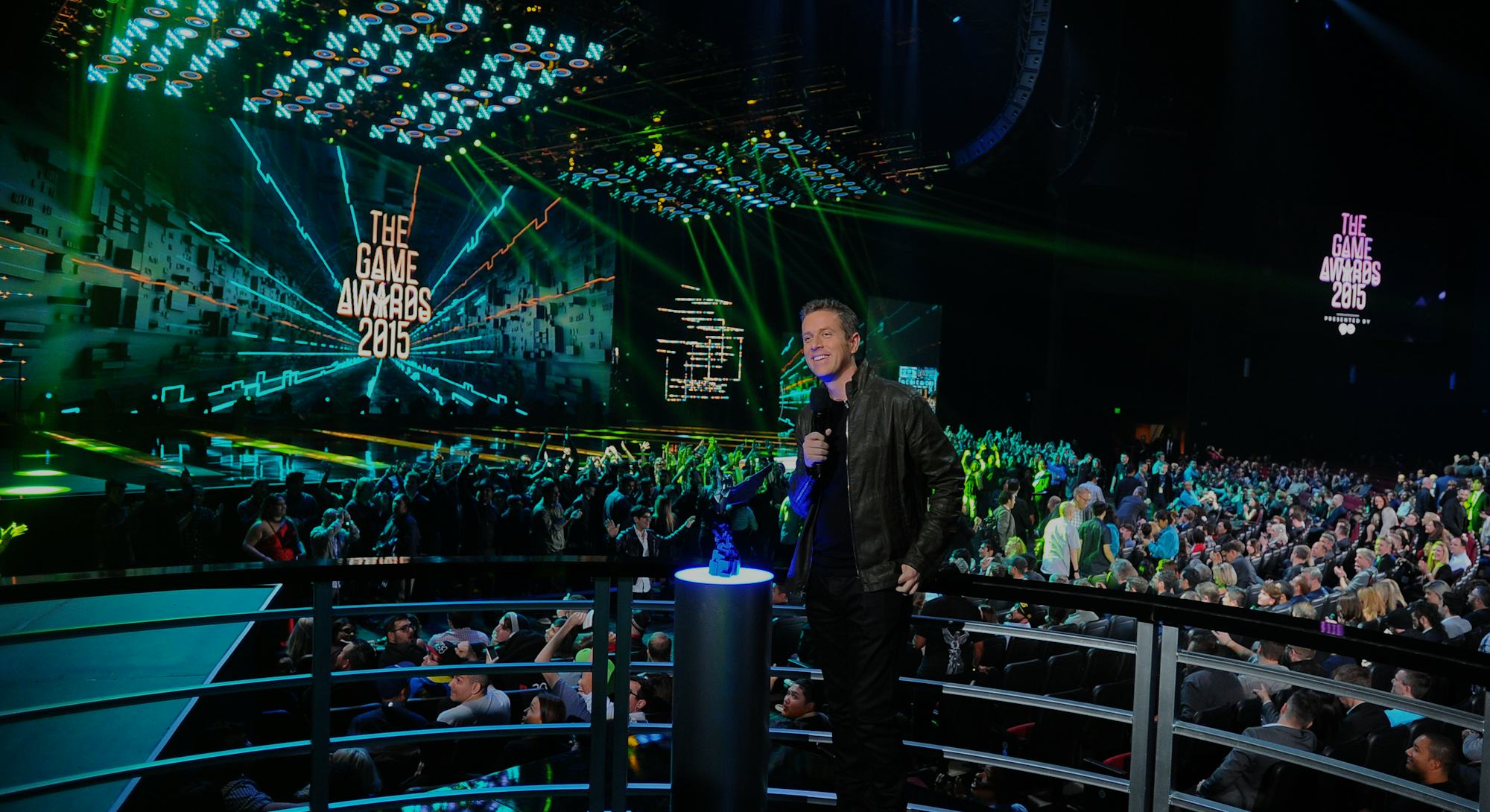 Gaming
The Game Awards Has Evolved Beyond TV
"We're not looking for this mythical mainstream viewer to tune in."
To watch the Video Game Awards during its decade on bro-centric Spike TV was to witness gaming at odds with itself. Held every December in Los Angeles, the VGAs celebrated the year's biggest and most polished games — last year, "Game of the Year" was awarded to The Witcher 3 — while also promoting the upcoming year in gaming with bombastic trailers for the next big thing. The Oscars don't premiere trailers during its ceremonies, but then again, gamers aren't Hollywood cinephiles. To producer Geoff Keighley, the "element of marketing" was necessary, and still is, even as the show evolves out of the confines of cable television.
"Gamers like to look back at the games they played, but they also love to get hyped about the future," Keighley tells Inverse. "The goal for me is to balance that out. They want to naturally be excited about where this medium is going.
Since 2014, the VGAs rebranded into The Game Awards and airs exclusively online, a clear awareness its audience of fervent tech trendsetters have abandoned television en masse. This year, viewers will tune in December 1 via the shows website, Facebook, and on platforms like Twitch, Xbox Live, PlayStation Network, and Steam. New to the 2016 awards is virtual reality access, enabling home viewers to see the show in first-person, as well as broadcasting online in China through Tencent. In many ways, the show has imitated the industry itself, eager to adopt new tech to provide content while penetrating the guarded Chinese market.
But as the awards show evolved, so has its attitude.
The trailers aren't going away — in fact the show is ramping them up into live Let's Plays — but Keighley is aiming his sights past the marketing machine many fans have criticized the show for becoming. Towards the end of the VGAs on cable, the show had become, in a word, rough. Subject to strict time blocks, a mandate to attract wide audiences, and all sorts of censorship quagmires — expecting dozens of advertisers to be kosher with violent game trailers ain't easy — the prestige of the VGAs felt hollow, and its purpose became redundant as new trailers wound up on YouTube almost immediately. For a while, the VGA trophy, designed by the renowned Weta Workshop, had as much cred as an MTV Movie Award rather than a glistening, golden Oscar.
But the worst offence of the former VGAs happened during the 2013 awards, the last year it aired on TV. The world had its first glimpse at No Man's Sky, the open-galaxy exploration game from Sean Murray and his team at Hello Games. Following the premiere trailer, stratospheric hype exemplified by Reddit and an appearance on Colbert surrounded the game for three years, only for it to disappoint upon its release in June 2016. (Both sales and player engagement dropped significantly in its second week.) Keighley wondered in a segment on Live with YouTube Gaming if the awards played a part, however accidental, in generating excitement.
"I've fretted over the past few years that maybe the platform we gave [director Sean Murray] to launch the game was too big, and created a black hole that he couldn't pull himself out of," he told his studio audience, admitting how the awards' habit to hype was also a factor. In his conversation with Inverse, Keighley said that new premieres will always be a part of the Game Awards, but there will be a "little bit less marketing and a little more raw gameplay footage" from now on, something Keighley is hopeful can prevent another No Man's Sky episode.
"My goal is to bring everyone together to celebrate and create so much excitement it's infectious," he says. By rewarding and recognizing talent in the industry, Keighley hopes the Game Awards becomes "something we're proud to associate with our industry and something that can elevate the medium."
"That's something that, having done this show for years, I think was missing for awhile," he added.
Since going online and gaining breathing room, the Game Awards has done what it wants to its own benefit. "We're not looking for this mythical mainstream viewer to tune in," Keighley explained. "We're liberated more on the web. [When] we made a decision to not focus on television, it paid a lot of dividends for us."
But the awards still aren't the all-important affair it wants to be. Yet.
Naturally cynical, gamers never want to be told to make something important; they'll do that themselves. "It's something that has to be organic and needs to be earned," Keighley said of the awards' prestige. "Part of it is respect from the developers and the creators, and part of it is respect from the audience."
Keighley knows that changes aren't immediate. "We're honest that we don't have the perfect solution for what the show will become," he said. "It's just going to evolve every year. There will be great years and years that aren't. Through and through, we want to do something reverential for the medium, but is also fun. It's video games. It's an evolving format."
The Game Awards will air live from Los Angeles on December 1.