Reddit Roasts Ken Bone for Trying to Draw Out His 15 Minutes of Fame
The most upvoted comment on the thread embodies viral death.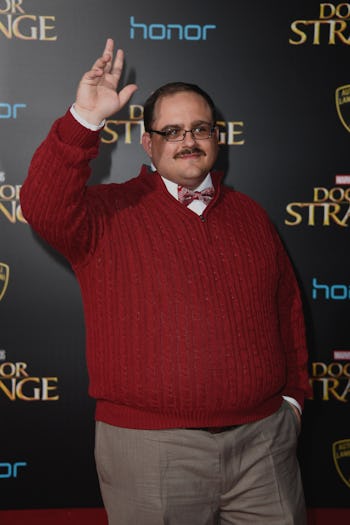 Getty Images / Frazer Harrison
Ken Bone, the undecided voter who went viral for asking a question at the second presidential debate, is clutching onto his 15 minutes of internet fame. By now, everyone's already been Boned out. The red sweater-sporting coal worker was already roasted by the internet after his colorful Reddit history was revealed during an AMA and for congratulating President-elect Donald Trump on winning the White House, but Bone just won't quit. On Thursday night, he submitted himself to /r/RoastMe, a subreddit devoted to exactly what it sounds like. Redditors went in on Bone like no other, exemplifying the frustration that the internet has when the idols they build up attempt to stick around longer than welcomed.
Every meme or internet personality has a life span of relevancy. There's so much to consume online that people can't be bothered with something they were interested in just a matter of weeks prior. Oftentimes, memes and individuals that go viral gracefully fade away into the cyberspace abyss. But every so often there's the person that desperately tries to stay in the spotlight, such as Chewbacca Mom. It makes sense, since there's often sponsorship opportunities or just the chance to do cool shit like show up at the Doctor Strange premiere — Bone himself got to strut down the red carpet. And in a determined hope to stay in the zeitgeist, Bone has offered himself up to the legions of Reddit for a good ol' fashion drag.
The most upvoted comment on the thread embodies viral decay. Elysiaxx writes, "Do you really need three clocks to let you know your fifteen minutes are up?" Apparently the mods even took a jab at Bone, labeling the submission as "Celebrity," quotation marks included.
There were plenty of other hilarious insults, including "You went to a Halloween party dressed as yourself and still lost the Ken Bone costume contest" and "You've got Trump's tiny hands, Bernie's youthful vigor, Johnson & Stein's irrelevance, and Hillary's mustache."
Meanwhile, some other Redditors just couldn't bring themselves to taking Bone down a notch.
So where does the undecided voter that captured the hearts of America for 15 minutes of the election cycle go next? Well, he just launched his YouTube channel where he's vlogging about his life. (So far, there's only one video) Serving yourself up to the internet to get railed by insults isn't the best look; it just comes off as a last-ditch attempt. But there's that age-old saying: Any publicity is good publicity.