'Harry Potter' Superfans, Now Adults, Tackle 'Fantastic Beasts'
Not having all the answers is exciting.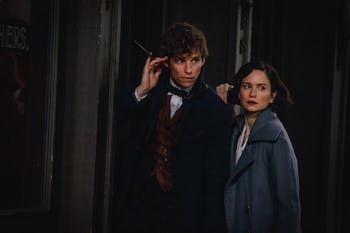 Warner Bros 
Over the past decade and a half, the Harry Potter franchise has become a multi-platform behemoth. It went from a modest beginning as a novel nobody wanted to publish to a bestselling book series, expanding into a blockbuster movie franchise, took a detour for the stage, filled a theme park, and has now landed on the big screen once again with the spin-off film Fantastic Beasts and Where to Find Them. Along the way, it has redefined the way fans engage with stories.
Although Potter is not responsible for modern fan culture — we can't forget Star Wars and Star Trek for fan zines and fan fiction — it's safe to say it was the prime obsession of a generation. Its spin-off prequel film Fantastic Beasts has always had two jobs: To build a successful story in the Potterverse with new characters and to reach a fan base that has grown up. What happens to fans when the world they rally around resurrects itself in a different format, at a different time in their lives?
"There's a little bit of dismissiveness from the more general blasé fans of Harry Potter," Melissa Anneli, a Potter superfan, told Inverse. "But inside the core of the fandom, I do see it being talked about differently. It's new canon; it's new J.K. Rowling. We're super excited by it. I'm okay with leaving the characters we explored in the first seven books behind for a whole new set right now."
Anneli speaks with authority. She is the owner and webmistress the fan site the Leaky Cauldron, wrote the book Harry, A History, and started Mischief Management which includes Leaky Con, a Potter fan convention.
The main thing that has changed, Anneli maintains, is not the level at which fans engage, it's how they engage. "Back in the 2007 era, we were doing all that coverage of the films ourselves," she said. "Now because social media is so alive and there's Pottermore, it's been a little less interactive on our end. But the release of all this information and the way it's tied into the original canon is exciting fans to the level that they were in 2007."
Steve Vander Ark, who started the Harry Potter Lexicon in 1999 and created the first Harry Potter timeline that Warner Bros later used for the movies, agrees. "I was excited about it going in," he told Inverse about his experience watching Fantastic Beasts. "I've never really let [Potter] go. But I had forgotten how exciting it was not to know the whole story, not to have figured everything out. Not to have all the answers."
Vander Ark says that while he enjoyed the original Potter movies, he couldn't help comparing them to the books. "I had the constant typical fan thing, 'Well, that's not like the books.' In this case, there's none of that. There's a real pleasure to that — to go back to the wizarding world and not carry that baggage with you."
Nevertheless, Vander Ark appreciated the opportunity for Fantastic Beasts to break away from the traditional heroes journey quest narrative.
"I think Rowling, when she wrote the original Harry Potter books, had written in a certain format and genre," he says. "And that genre worked against the idea of having a really strong female character, because it was so traditionally British. You had Molly Weasley, who was more of the housewife model. Which is great, but I really liked Tina [played by Katherine Waterstone] — she didn't have to give up her femininity to be a hero."
"I was a librarian and am now an elementary teacher," says Vander Ark. "These books have never struck me as being kids books, just like a Roald Dahl book doesn't strike me as being necessarily a kid's book. In that sense, I don't think it's any different — but simply the fact that your characters are adults and deal with things that happen to them in adult ways makes it more of an adult story."
Jackson Bird, who is the Communications Director for the Harry Potter Alliance, a fan activism organization, agrees that it feels like no time has passed. "I saw it with a whole bunch of fans," he says. "And afterwards there were about fifty of us who were just up all night theorizing about it — just like we used to when the books came out."
Nevertheless, there was one aspect of the film that made him balk.
"The death penalty and execution stuff we saw I felt went a little too far," he says. "Got a little too dark. I think it was very much trying to have a commentary on the death penalty here in America — what with that single chair that they had, the way that the executioners were dressed, and when they were taking the memory down of her it almost looked like the lethal injection going on. That seemed a little heavy-handed."
"Whoever plays Albus Dumbledore will invariably be a gay action hero," says Anneli. "And its going to be amazing. I can't wait."