Brace for the Trump-Era 'Star Wars' Tattoo Boom
In the face of the oncoming Trump presidency, will a symbol that stands for unity in the face of oppression have more meaning than ever before?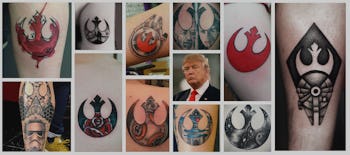 Instagram/vdbroocke, jessicachanner, jarridy, milfmoney, gamer.ink, kimdoodles, eddy_arg, saraevetattoo, tattoogigolo; Kamil Czapiga; tattooblend, tattoogigolo; Kamil Czapiga; tattooblend
Star Wars offers a seemingly infinite universe of nuance and galactic trivia, but to follow the films, you only really need to recognize two simple symbols: the Rebel Alliance insignia and the Imperial cog. They stand for all that is good and evil in that fictional galaxy, respectively, and thanks to their simple yet powerful messages, they are the most common Star Wars tattoos on Earth. The upcoming Rogue One is set to put that Rebel Alliance insignia front and center once again, and given the current chaos in American politics, there's a chance that this symbol for unity in the face of oppression might become more popular than ever before.
"Star Wars tattoos have been increasing in popularity, really, since day one," says Shane Turgeon, a tattoo artist and multi-hyphenate avid collector of pop culture memorabilia and original artwork. He owns Shades of Grey Tattoo Shop in Edmonton, Canada, and is the mind behind the coffee table-style The Force and the Flesh books, which catalogue Star Wars tattoos across the decades. "They kind of reached their apex a few years ago where there was suddenly this new glut of tattoo artists who'd grown up seeing that Star Wars tattoos were totally a thing."
The Star Wars tattoo renaissance began in the late 1990s, and Turgeon started a website dedicated to geeky tattoos in 1999. By 2005, he was working directly with Lucasfilm to create tattoo programming at Star Wars conventions. The combination of the internet and a growing social acceptance of tattoos over the past decade have made Star Wars and other geeky tattoos far more acceptable and even cool to the public eye. The strong imagery and dynamic characters in the series often act as a perfect combination for artists and enthusiasts alike.
Adam Guy Hays is the owner and manager of Red Rocket Tattoo in New York City, and is a member of an elite force of licensed Lucasfilm tattoo artists. He has been inking Star Wars tattoos for the past dozen years, and confirms that the two symbols are the most popular choices, even if many licensed Lucasfilm artists can create intricate, colorful images of everyone from Han Solo to the Ewoks.
"It's just easy to get a Rebel Alliance symbol or an Imperial cog if you're just a general Star Wars fan and you're not picking one character over another," he says. Simply put, it's a safer bet and more subtle than having Admiral Ackbar's face under your skin forever.
"The Rebel Alliance insignia and the Imperial logo have been the most common tattoos since people started getting Star Wars tattoos," Turgeon explains. Often, the symbols aren't meaningful beyond functioning as a sign that someone is a fan, a calling card of sorts. "It was more 'what do you like more, do you like stormtroopers or do you the Rebellion more?'" he says. "I don't think it really was like people were getting the Rebellion one or the Imperial one because they loved oppression and they loved tyranny. It was because they were Star Wars fans, first and foremost."
The election of Donald Trump may change that. "Do I think there's potential for that to grow in the wake of a four-year term of Trump?" Turgeon says. "Sure, absolutely." But, he says, there's really no real way to know for sure. Right now, there is just anecdotal evidence; the week after Trump was elected saw people getting Rebel Insignia on a pin tattoos — a combination of the Rebel Insignia and the anti-Trump safety pin — but "it lasted for a week until the next social justice warrior phenomenon kicked in," Turgeon says.
As for the new films — Rogue One and The Force Awakens — Hays says that there's absolutely a "rejuvenation" in public interest in Star Wars tattoos. "But I don't think people are fully committed to the new movie imagery as tattoos until we see how it all wraps up," he says. Much like the Trump presidency itself, artists and fans of Star Wars alike will have to wait to see exactly what the impact will be. May the Force be with us all.