The Arrowverse Teams Up to Fight Aliens in Crossover Trailer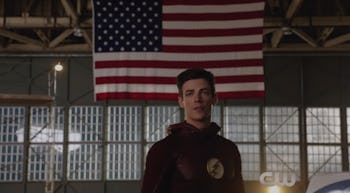 Warner Bros. Television
The CW's four DC shows — Supergirl, Arrow, The Flash, and Legends of Tomorrow are headed towards their much-hyped crossover in two weeks, and on Monday night the CW shared a trailer for the big "Heroes vs. Aliens" event.
Though brief, the spot shows off a lot of what we can expect when the heroes come together to battle the Dominators, an invading alien species that wants to take out humanity. It looks like the Flash does some multiverse hopping to bring Supergirl into the proper Arrowverse to help combat this threat, and once she's there, Kara meets the whole crew.
And we mean the whole crew — with the exception of Supergirl's supporting cast, pretty much every major hero from all the other CW shows appears. In the much shorter spot that came out last week, we noticed that Green Arrows new team didn't make an appearance, even though it's been confirmed that they're going to. Well, in this trailer, Wild Dog got to deliver the Arrowverse's mission statement: "It's good there are guys like you to help the world."
Similarly, Deathstroke shows up in Monday's trailer despite sitting out the previous preview.
The crossover event begins on Monday, November 28 with Supergirl at 8 p.m., and will run through the rest of the Arrowverse shows as scheduled, finishing up with Legends of Tomorrow on Thursday.