Arrowverse Crossover First Look Is a Superhero Roll Call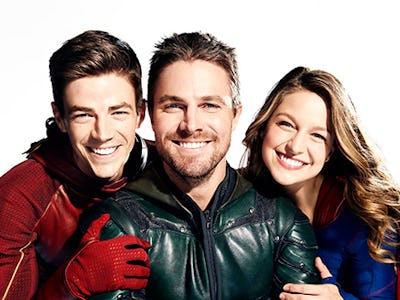 Entertainment Weekly
The CW is crowded with superheroes from the DC Universe, making the upcoming crossover featuring Supergirl, The Flash, Arrow, and DC's Legends of Tomorrow jam-packed with spandex. In the first 15-second spot — titling the crossover "Heroes vs. Aliens" that begins with Supergirl on November 28 — there's just enough time for a roll call, just to show how many super-people will show up.
The party begins with Barry Allen (Grant Gustin) introducing Supergirl (Melissa Benoist), with whom he met last spring in the Girl of Steel's first season. "Okay, I think I got it," Kara says. In the hangar, there is: Green Arrow (Stephen Amell), White Canary (Caity Lotz), the Atom (Brandon Routh), Firestorm (Franz Drameh and Victor Garber), and finally, Heat Wave (Dominic Purcell). "Best, team-up, ever," Emily Bett Rickards's Felicity Smoak gasps. She's not wrong!
Early photos also reveal a few more additions, including Vixen (Maisie Richardson-Sellers) and Nate Heywood's Citizen Steel (Nick Zano) joining the fray, the latter of whom is getting his own costume based on the comics (just imagine when he turns CGI and it's pretty accurate). Ray is the Atom again after his existential crisis, while Spartan — Diggle (David Ramsey), Oliver's most trusted partner — turns on the Green Arrow and the Flash, maybe due to whatever evil is caused by the invading Dominators. Also, Katie Cassidy returns as Laurel, who died last season but may return in possibly a flashback or fantasy illusion.
Also not seen are the new Team Arrow members like Wild Dog, Ragman, Artemis, and Mr. Terrific, who are confirmed to appear, as well as Deathstroke, who has been teased for the 100th episode of Arrow that will take air during the crossover.
Check out the trailer below:
The crossover begins with Supergirl on November 28.