An Illustrated Look at Election Day, From Elation to Despair
Los Angeles began its Tuesday with high fives and free cookies and ended at a loss.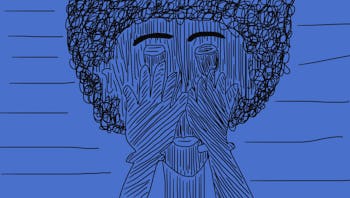 Jamie Loftus
I woke up Tuesday morning, like many others, feeling elated. In only sixteen-odd hours, I thought, I'd be free of the anxiety that marked the campaign season, and I'd finally be able to focus on getting my health insurance secured for next year. I could finally begin the process of showing support for the first female president of the United States.
Obviously, my day didn't go that way. Initially, I had planned to travel around the city of Los Angeles, one that was humming with excitement for the majority of the day, to sketch what I saw: excited voters, gathered happy and tipsy, not knowing they'd soon descend into a deep melancholy. Chasing an idea I unsubtly lifted from Shel Silverstein during his Playboy years, I began the day as someone hoping to document a historic day in American history in an open and accepting city.
Crazy how these things go, huh?
While many polling places in LA reported long lines on the morning of the election, my sleepy neighborhood congregated in what I conservatively described to my mother as "some rich guy's garage," only a ten-minute walk from my apartment. Most voters cast their ballot at public schools, churches, and community centers, but the rich guy's garage was nonetheless flanked with an all-female team of volunteers, diverse in age and ethnicity. The girls who handed me my ballot explained that they were only sixteen and were sorely disappointed they couldn't vote themselves.
One, an American Muslim who attends a local high school, expressed that she had initially been discouraged from applying to volunteer at a polling place.
"My teachers were saying, 'Yeah, they only pick old white ladies to help with that stuff.'" Nearby, a group of old white ladies giggled. "But I said I wanted to do it and hopefully they'll pick me, and when they did my mom cried, she was really proud."
I cast my ballot for Hillary Clinton, in support of or in opposition to seventeen statewide propositions, and for certain representatives and a number of other things. This was the first election for which I had really done my homework. I got to see the first black president elected in 2008 while attending a mostly black inner city high school, but I wasn't able to vote myself. Leaving a polling place full of excited women after voting for the person I thought would best fill the presidential position felt good. A number of mothers who brought their children to the polls expressed a similar sentiment, particularly a mother and daughter in "nasty women" t-shirts.
After voting, I accepted the Inverse challenge of getting as much free stuff as my 'I Voted' sticker could get me, leading me to the same table as some teenage Latinx voters at a Chuck E. Cheese's. They informed me, mouths full of free pepperoni pizza, that they had just voted for the first time and were particularly excited about Clinton and legalizing marijuana in California (a motion that passed).
"And we get pizza, so hopefully they don't kick us out," one giggled as a group of parents who had just voted with their children eyed our table suspiciously. A few shrill choruses of "Give Yourself a High Five!" — Chuck's signature song — later, I tried to find where the adults were.
It turns out that all the adults were celebrating like kids downtown. A swarm of young professionals had lined up outside of Milk Jar Cookies in DTLA, waiting patiently in HRC gear for a guaranteed free cookie from the independent shop. Others enjoyed free lemonade, coffee, shots and discounted food from other local businesses, because if there's one thing Americans can be, it's bought.
"The only way this day could get better is what happens tonight," said one woman in line, who works at a local for-women nonprofit. Her friend, also waiting for the proverbial cookie, laughed nervously.
"Don't jinx it," she warned, and the first woman rolled her eyes. Don't be a spoil-sport, I remember thinking.
Before heading to one of the many public election night gatherings scattered across the city — and before you ask, I couldn't find a Trump party to save my life — I walked around Echo Park, past polling places and schools getting out, absent of the normal trudge associated with the high school bell. The feeling was one of excitement, and my little bubble felt safe. I've only ever lived in blue states, and the reality of that had infected my view of the whole country, in spite of evidence to the contrary.
Still, there was no way that I or my friends or the political sources I checked daily could all be wrong. We would end on the right side of history, and my city seemed to feel the same way.
After declaring the KPCC viewing party, our local NPR affiliate, officially "too clogged with Democrats," as my friend put it, we settled down in the packed but comfortable Lost Knight bar in Echo Park, the kind of place that is pretending to be British for reasons unclear. They had projectors and screens across the sprawling restaurant as Hillary supporters crowded together at tables and watched the results roll in.
Sure, Trump took a state or two we weren't expecting, but the crowds generally tried to match the feelings of the MSNBC reporters delivering them. Occasional cheers of 'that's my state!' as the map sluggishly filled in with coastal blue, and groans as Trump swept the creamy filling of the country.
About an hour and a half after I arrived, the mood at the bar began to turn. The band that was planning on playing during commercial breaks quietly cancelled their own set after Trump took North Carolina, causing a native of the state at a neighboring table to burst into tears. She was comforted by her boyfriend and calmed down, and the bartender gave me a discount on my next drink. I didn't realize until that moment that I was crying too.
After Florida, one of my friends began to get angry. I wanted to get angry, but like many others as the bar quieted, filled with those targeted by Trump — our group continually joked about consisting exclusively of women, LGBTQ, and black people — who began to realize that the impossible result wasn't really impossible after all.
A groan broke out as each swing state went red, particularly when the pundits we had grown to rely on and resent over the past year kept forecasting how Hillary Clinton could "still maybe take it," only to offer ample evidence to the contrary. We didn't want to get drunk anymore, and many seemed to agree. We had planned to drink and fuck and celebrate, but my friend admitted to never being less horny in his life.
Instead, we texted our moms that we loved them, stopped at a comedy show desperately trying to rally the troops with varying degrees of success, and went home to sleep off an uncertain future.
By the time I arrived home, speaking with my best friend and I separated by a country but bound by our anger, Donald Trump was making his speech accepting the presidency. Twenty-four hours later, I'd be protesting. Forty-eight hours from the moment Trump accepted, I was lying in bed, sleepless. So many people around the nation were about to have a similar experience, teeter-tottering from despair to fiery motivation at the drop of a hat, but just past midnight in California, everything felt empty.
I had my sketches still, and my original plan. Like it was for many others, the days that unfolded after my project were be full of internal struggle. Election Day turned out to be a historic day, all right — it just wasn't the one I'd signed up for.