Bald Eagles Are Stuck in a Sewer and America Is Worried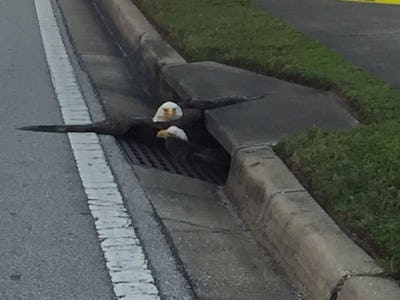 @TRussellWFTV
It's been a hell of a week for America, and on Thursday Mother Nature gave the United States the most on-the-nose metaphor anyone could possibly imagine: two bald eagles are stuck in a literal sewer.
As ABC affiliate WFTV in Orange County, Florida reports that two bald eagles, the proud symbol of this great nation, were discovered in a storm drain late in the afternoon. It's unclear how things got this bad, and we also don't know how these birds got stuck. Witnesses said it appeared as though only one of the eagles was trapped. It looked like the other was guarding it, but an expert at the scene said that they were actually probably fighting (in Florida, no less), which only strengthens the irony and enhances the metaphor.
Firefighters and animal rescue workers were called the the scene in an attempt to free the bird from its accidental Pennywise the Clown cosplay. When they showed up, the first eagle was forced to flee, while the other fell all the way into the storm drain. After a lot of work, rescuers were able to free the scared, injured eagle. It seems like it's going to be okay.
The entire rescue attempt was streamed via Facebook Live, where more than 40,000 viewers tuned in, and everybody and their mother pointed out that it was a like a metaphor for America.
Still, though, you have to wonder how we expect eagles to take down drones when they can't even handle a drain.