You Can Buy the Adorable NES Classic Edition Right Now
30 games for $59.99 ain't bad at all.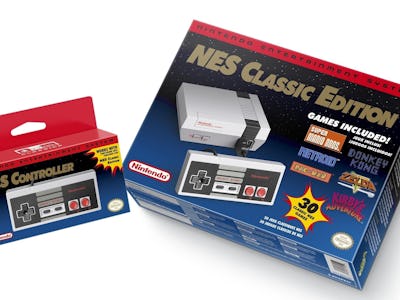 Nintendo
Good news, retro fans! Nintendo's NES Classic Edition is officially on sale today — though retailers differ on when and how you can pick one up. Regardless, it's time to plop down on the couch this weekend with a bowl of sugary cereal to play through the little console's 30 different offerings.
When the device actually goes on sale is pretty simple: Most retailers like Best Buy and GameStop will have them available in the store upon opening. Stock is reportedly low for this first wave, however, so if you're really looking to drop $60 on a new machine that plays Castlevania and The Legend of Zelda then you'd best plan on showing up early. Amazon will also have the NES Classic Edition on sale, but not until 2 p.m. PT on November 11.
It's important to keep in mind that the NES Classic Edition is basically just a smaller NES with built-in games that doesn't connect to the internet. So, forget about it ever getting any new games in the future via patch. Additionally, it's worth noting that the box only comes with a single controller, one which might require a USB extender just to be useful.
Regardless, there's something altogether adorable about the NES Classic Edition. And for $59.99, 30 games, a controller, and hardware with an HDMI output is awfully tempting for many.