Becoming Deputy Welch on 'Channel Zero: Candle Cove'
Luisa D'Oliveira explains how her character will become the key to the Syfy horror anthology's Season 1 finale.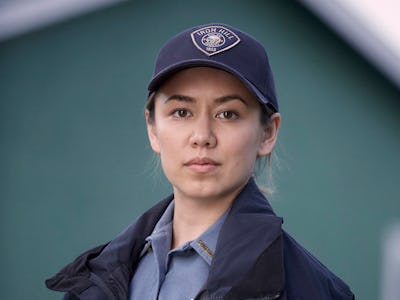 Syfy
Syfy's Channel Zero: Candle Cove is getting weirder and weirder as it heads into its Season 1 finale. Thankfully, actress Luisa D'Oliveira's Deputy Sheriff Amy Welch is there to help.
D'Oliveira is something of a TV veteran, having appeared in a wide range of shows over her nearly decade-long career, and has been able to step out from the ensemble on Candle Cove, which will wrap up its first season storyline before launching into a completely new one in Season 2.
Inverse spoke to D'Oliveira about horror movies, seeing the Candle Cove script in her head, and what to expect from Amy in the anticipated finale.
How did you first become involved with Channel Zero?
No crazy stories about getting the part. I'm not sure where [series creator] Nick Antosca and [director] Craig Macneill were in the creative process at that point, but I just sent in an audition tape. We didn't even meet beforehand. I've played a cop before, so right off the bat I was feeling pretty good about this character, and they responded to that. She felt right.
[Nick and Craig]((https://www.inverse.com/article/23404-nick-antosca-channel-zero-candle-cove-finale) are very good at getting a vibe from actors because once Paul, Fiona, Shaun, Natalie, and I got together, you could see the elements working so well. Working on the show was one of the best creative experiences I've had in my whole life. It was the most incredible mix of people with Nick and Craig steering the ship. That cohesiveness really comes through.
What were they looking for in Amy?
[People] very comfortable holding space because there's so much room to breathe on this show, on purpose. It helps create the atmosphere, and it was one of the things that came natural to me because it seemed right with the writing.
So the character didn't change much once you got on set?
When we were shooting on the day I relied a lot on Nick and Craig because they knew the overall vision and could see what it was going to be like before it was even edited. We'd do a variety of takes of scenes with reactions that would be bigger or then ones more understated. Both were valid, but they tended to go with the understated stuff. It's more natural and makes the show more rooted in reality, which is one of the things that's so unsettling about it.
Did you approach the role of Amy differently knowing that Channel Zero is in the horror genre?
I got a sense from the writing what the tone would be, then Amy came alive in my mind. It was like watching a super engaging movie for the first time. But, you still don't know what it looks like onscreen.
I watched Craig's film The Boy and that let me really understand, because Craig created this really eerie atmosphere that's familiar but unsettling at the same time. He made it easy to believe this could be happening somewhere in the world. That made it easier to see what Amy would be like, and then you build the character out organically from there.
Did you know what creepypastas were before you were cast?
I'd never heard of them, but I made sure to read the original "Candle Cove" story by Kris Straub before auditioning. I also read some that built upon the original that were other people's interpretations.
They're all so simplistic but creepy and real, "Candle Cove" especially because it's based in the anonymity of the internet as a conversation on a chat forum. It's unsettling because you also don't quite know who's on the other end. I get why creepypastas are so popular. They're the new form of urban legends.
Amy seems to have evolved the most out of all the characters. Did you always know she was going to move to the forefront?
As an actor, you just want to go through some transition, and Amy is so content and loves her job as Gary's deputy. Then, suddenly things get thrown upside down, and she doesn't quite understand what's going on. Now, she has to deal with it, and she's able to in a capable way even though she's in the dark.
There's only so much I could do physically as a small female, but it's not all about the physicality. It's about her attitude. People respond to you letting them know you're in charge and that you won't let people get away with something.
What can we expect from her in the finale? Will she ride it out?
Things are going to get a lot weirder. The idea that she's not sure what's going on is gone now, so she'll definitely have to step up. We can expect her to engage more with what's going on.
This interview has been edited for brevity and clarity.