Here Are the Best 'I Voted' Stickers From Around the Country
Some states went above and beyond with their designs.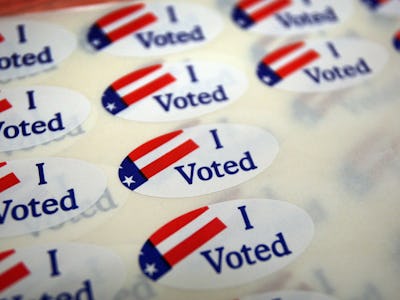 Getty Images / David McNew
It may be a small reward for standing in a long line and doing your civic duty, but getting an "I Voted" sticker on Election Day feels pretty damn good. The tradition started back in the 1980s, and now just about everyone gets a sticker on Election Day — unless you voted by mail or turned in an absentee ballot. It's a great, nonpartisan way to tell the world you proudly took part in democracy.
It's a nice bonus when the sticker that will be on your lapel all day has a great design. Some states, counties, and cities put some thought into their sticker design, while others have legally mandated designs. Here's a roundup of some of the greatest stickers around the country.
Louisiana
Louisiana is definitely a winner when it comes to sticker design. It's hard to beat a patriotic blue dog painting by artist George Rodrigue:
Ohio
Ohio takes full advantage of its shape so voters can declare their love for civic duty:
Tennessee
Tennessee got fancy with their sticker shape. No boring circles or ovals for them:
Georgia
Georgia's stickers are pretty peachy:
Chicago
Chicago businesses apparently got tired of scraping stickers off surfaces after elections, so voters in the Windy City get wristbands:
Las Vegas
This guy is definitely not a registered voter, but the sticker handed out in Clark County, NV, where Las Vegas is located, is pretty great:
San Francisco
San Francisco's "I Voted" stickers feature the phrase in four languages:
New Hampshire
New Hampshire's sticker shows just how serious the state is about voter access:
Minnesota
It may look plain, but there's a reason for that. Minnesota passed a law in 1993 that all voting stickers in Minnesota could include nothing but the words "I Voted." The red background helps it stand out:
Rochester, NY
Simple, timeless, and perfect for sticking on suffragist [Susan B. Anthony's headstone](http://www.npr.org/sections/thetwo-way/2016/11/08/501167896/hours-of-susan-b-anthonys-gravesite-extended-to-accommodate-election-day-visits):
Unfortunately, not everyone gets a sticker. Some counties don't offer them because of the expense, while Oregon and Washington don't vote at polling places. Voting by mail makes it a little hard to hand out stickers on Election Day. Back in 2012, the state of Oregon suggested a "digital sticker" that people could use for social media profile pictures, but the trend didn't really catch on. Washington State has some similar digital stickers for posting online or printing out.