Where Smartphone Privacy Starts
Burner is what you download when you don't need a burner phone, but you want one.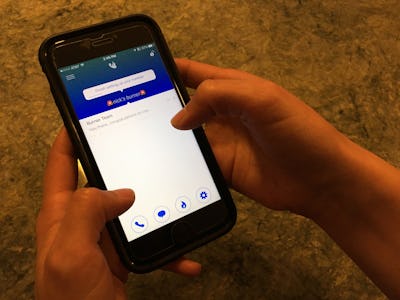 A fugitive pops a SIM card out of a prepaid phone and stomps on both before disappearing into a European train station. A source rips open the plastic case of a store-bought burner to call a crusading journalist to arrange a meeting. There's something fascinating about spycraft, whether it's the gadgets of James Bond or the masks in Mission: Impossible.
The mega-popular phone number-shielding app Burner slices off a little of that intrigue, but its origin story isn't based from the deep within the CIA; it's not cool. It involves a Wilco concert. Greg Cohn had tickets to see the alternative rock band in 2011; he wanted to sell them on Craigslist but he didn't want to give out his phone number. The idea of Burner was born from that perfect use case.
Today, Burner is unusual among prominent privacy-protection apps in that it offers the convenience of caller ID blocking rather than the protection of end-to-end encryption. It is not one of the tools that will protect you from NSA snooping or a determine hacker, but it integrates with those tools and protects users from anyone trying force a dialogue after a one-time interaction (Cohn says that many of his users are women in sales positions).
"The latest stuff we've been doing is what we're calling 'connections,' that allow you to authenticate Burner to other apps," Cohn says. "So you can take a Burner line and connect it to a Slack channel. You can have a tip line, a hotline, and people would text it and the whole team could see it."
Because it was built to work in tandem with other apps, burner now sits at the intersection of several important privacy issues. Marketers and big-data aggregators now view phone information and email addresses as equally valuable. For every Amazon order, or even in-person purchase at a Walmart or pharmacy, consumers are asked to provide a cell phone number. It's also part of two-factor authentication, the latest security step being taken by email and messaging services like Whatsapp.
"There's a lot of talk about encryption, a lot of talk about NSA overreach, lot of talk about the Fourth Amendment relevant to wiretapping and so forth; super-important stuff and stuff we're passionate about," says Cohn. "There's not enough talk about Google and DoubleClick co-mingling data."
Cohn is referring to the recent revelation that Google has erased the wall between anonymous ad tracking and user's names, as ProPublica reported, potentially leading the way to Google building user portraits. Though Burner doesn't solve that problem, Cohn raises that issue to highlight how much identifiable data, including phone numbers, users give to tech companies without receiving any guarantee it will be protected, anonymized, or eventually destroyed.
Cohn won't say exactly how many users Burner claims, but it's in the millions, and the app is regularly near the top of most-popular lists on both Tunes Store and Google Play. The app's only available in the United States and Canada and new users get to choose a number for a free trial. After the trial's up, they have to buy credits for minutes and texts sent. Burner's not the only number-hiding app the on market; in 2013 he publicly called the Hushed app an "obvious clone."
A lot of public sector workers — attorneys and law enforcement — might not want to give out their real number, he adds. Burner also sees use from people who stay frequently at Airbnbs.
Among sex workers, there's also been adoption for Burner. One suggestion, laid out by the journalist Cathy Reisenwitz — who covers tech, feminism, and sex — is to use the Burner app on a prepaid burner phone. That way you keep your work phone away from a device linked to your personal identity and have a temporary number without dropping money on a new phone every couple weeks. Reddit, similarly, has several threads — "Has anyone here used the 'burner app'?" and "Burner phone vs burner phone app" are two — related to various burner apps and the Burner app.
Cohn, for his part, channels another popular sex work destination, Las Vegas, when he says: "What happens on Burner stays on Burner, among consenting adults."
But that's not exactly true: Burner's terms of service make clear that the app "may preserve content and may also disclose conversations, texts or other content to law enforcement."
Burner is not the app for the Edward Snowdens and Chelsea Mannings of the world, and it doesn't pretend to be. "What we offer is peer-to-peer privacy, and to a certain extent peer-to-marketer privacy," Cohn says. "If you're a journalist, you should be on Signal." Cohn also makes it clear that Burner operates using traditional telephone networks, so the app won't protect the user from any information AT&T or Verizon or Spring or T-Mobile might release. Similarly, Burner's terms of service make clear that the app "may preserve content and may also disclose conversations, texts or other content to law enforcement."
So the question if you're selling or buying sex, as always, is: what is your threat model? If you're worried about law enforcement issuing subpoenas or carrying out a sting, or even government surveillance, Burner won't help. Stick to an app that uses end-to-end encryption. But if you want to be able to make it hard for a client to contact you afterward, Burner might be the answer.
None of this is to deny that Burner technology is still novel, and still cool. Plenty of Burner users only really need the service for one or two major purchases. "Buying a car, for example," Cohn explains. Someone calling to ask about every knock or wheeze from that Honda Civic you sold on Craiglist could become a chronic problem.
Having a temporary number can be beneficial for other purchases, too. Burner enthusiast Mike Tadlock, VP Product Manager at eHealth, used the app when shopping for a loan. "Comparison shopping for mortgage refinancing is a dirty business. Fill out one wrong form, and your phone will not stop ringing off the hook. This time I used Burner. I watch the calls flood in from strange [numbers]. Eventually I narrowed it down to the best deal from one provider. The others kept calling but I Ignored them. Eventually, I closed the loan, gave my lender my phone number, and burned the phone number I had given to the mortgage brokers. Nice and clean."
But who talks on the phone anymore? Burner recently debuted a Ghostbot feature to respond to texts that you'd rather outsource to your robot assistant. Don't feel like answering a message from a Tinder date? If they have your Burner number, you can have it automatically send back messages like, "sorry, busy tonight" until they get the hint. It's brutal, but as Cohn says, "it's a very obvious future."
And the man stands behind his product. "My business card has a burner number on it," he says. "If you text it, you'll get one of my smart auto responders."