Nintendo's Totally Retro Power Line Returns
Nintendo's old-school help line is coming back to celebrate the NES Classic Edition.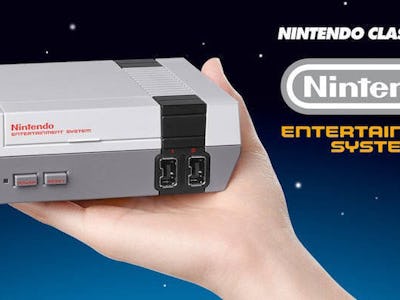 NDTV
Nintendo is calling to '80s kids everywhere to don their parachute pants and blow out their bangs to celebrate the launch of the NES Classic Edition in the baddest way possible — they're bringing pack the Power Line.
What's the Power Line? In this future era of high-speed internet, you can find the answers to the gnarliest video game conundrums with a simple Google search. But back in the day, gamers had to consult with Nintendo Gameplay Counselors via landline to get themselves out of sticky situations.
From November 11 to 13, you can relive the magic as Nintendo revives the Power Line in a fully automated capacity. Calling (425) 885-7529 between 6 a.m. and 7 p.m. PST lets you tune in to some helpful game tips and bonus behind-the-scenes stories from former Gameplay Counselors.
Nintendo's got a bunch of other plans leading up to the NES Classic Edition's launch. They'll be encouraging fans to share their memories and photos on November 10 with the hashtag #NESterday, and there may even be a sweepstakes or two. The Nintendo flagship store in New York City is throwing a party on November 10 at 9 p.m. Eastern to get people super psyched for the big launch as well.
The NES Classic Edition launches on November 11, and Nintendo is being totally righteous about the whole deal, packaging 30 classic games and an NES controller alongside the baby console itself. The NES Classic Edition has a few tricks up its sleeve, too — with new Suspend Points, you can even suspend your progress, a modern-day perk that just wasn't in vogue (or really possible) during the NES's heyday.