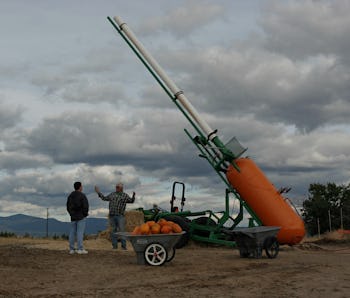 Culture
Punkin Chunkin Explosion Could Lead to the Tradition's Demise
A woman was left critically injured after being hit by flying debris.
Flickr / Photos By Clark
A 39-year-old woman is in critical condition after a homemade air cannon exploded at the World Championship Punkin Chunkin competition in Bridgeville, Delaware on Sunday. The cannons are used to hurl pumpkins 3,000 feet through the sky but when one of them fired, its trap door flew off, sending metal debris into the air and into a crowd of onlookers. While people may love this event, the accident calls into question Punkin Chunkin's future after demonstrating the activity's dangerous risks.
Punkin Chunkin might be a longstanding tradition — the first one was in 1986 — but perhaps it's time for people to evaluate whether it's worth continuing in its current form. Or, if they'd like to continue with Punkin Chunkin, they might need to put more precautions and regulations into place.
The The News Journal reports that about ten air cannons had already been fired when the accident happened. The woman was struck in the head and lay motionless when paramedics rushed to her. She was transported to Nanticoke Memorial Hospital and eventually moved to Christiana Medical Center by helicopter. A 56-year-old man was also sustained non-life-threatening injuries.
A spectator at the event caught the accident on video:
This year's Punkin Chunkin was the first one after a two-year break. In 2013, a former event volunteer filed a lawsuit after an ATV he was riding — he was measuring the distance pumpkins traveled from the contraptions — flipped. He suffered a spinal injury and he alleged the property and the Punkin Chunkin Association were responsible. The lawsuit was dismissed in 2015.
While accidents happen all over, the Punkin Chunkin seems to be an event more prone than others, especially considering that both of the most recent ones have had things go wrong. When there's dense vegetables being catapulted, of course there's going to be some risk, even if it's not the actual pumpkins causing harm. Delaware Online also notes that the competition struggled to obtain insurance.
Along with the World Championship Punkin Chunkin competition, there are various other outdoorsy events that seem a bit questionable when it comes to safety. Every year, Wisconsin hosts the Lumberjack World Championships which includes events like swinging around a hot saw and racing up a 90-foot-tall cedar spar pole. Apparently people love to watch these sorts of activities, but they seem like recipes for disasters.
The Science Channel and Discovery Channel were preparing for a competition simulcast that is one of Science Channel's biggest television programs each year. it was to be aired on November 26.
Inverse contacted Discovery Networks about the accident but a representative couldn't offer any comment about the accident or plans about whether it would air the program.