How to Listen to the New A Tribe Called Quest Album
"No batteries included, and no strings attached."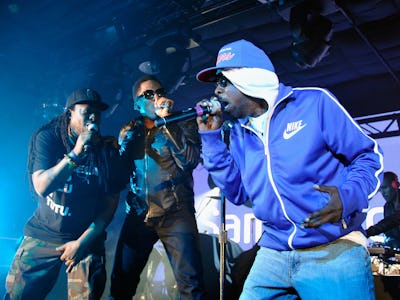 Getty Images / John Sciulli
On November 11, A Tribe Called Quest will release their sixth and final album, We Got it From Here… Thank You 4 Your Service. After 18 years of people begging the group to reunite, end their disputes, and deliver another classic album, they will be doing just that in a final album that is sure to cement their legacy as one of the most important rap groups in hip-hop history. Sadly, the album is marked by sadness as Phife Dawg, one-half of the legendary Q-Tip/Phife Dawg rap combo, passed away in March from complications from diabetes. The album will be a celebration not only of Phife, but of all that the group has done for hip-hop.
In a November interview with The New York Times, Q-Tip revealed that Kendrick Lamar, André 3000, and Elton John will be on the album along with long-time collaborator Busta Rhymes, who has been intertwined with the group since his powerful, final verse on the 1992 song "Scenario." In the same New York Times article, Busta Rhymes said that we can expect the "young, invigorated" energy that the group had when they were just getting their start in the business. The Afrocentrism and happiness that they displayed on their records served as a direct contrast to the heavy, gangster rap records that were extremely popular at the time. They were not only cultural staples, but succeeded commercially as well. Three of the Tribe's five albums went platinum and the other two went gold.
The classic album will be available from Epic Records. You can pre-order the album off of the group's official website as a digital download, CD, or vinyl. There are also merch packages available that all include a downloadable copy of the album on their website. You will receive the download for the album on November 11, but the other items will be shipped out from late-November to mid-December.