JOB HACKS | How to Be a Self-Employed Composer
The score producer of 'The Hangover' and the composer of 'Keeping Up with the Joneses.'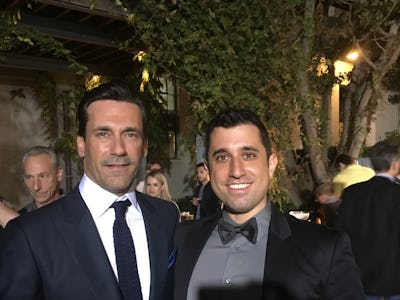 CW3PR 
Careers rarely go according to plan. In Job Hacks, we shake down experts for the insights they cultivated on their way to the top of their field.
This week, we spoke with Jake Monaco, who worked as a score producer on Frozen and The Hangover, composed Keeping Up with the Joneses, Let's Be Cops, contributed to the score of Hot Tub Time Machine 2 and Crazy, Stupid, Love, and is currently composing Amazons The Stinky & Dirty Show, Netflix's Dinotrux, and Warner Bros. Animation's Be Cool Scooby-Doo!.
Which of your projects has had the biggest impact on your career?
I would probably go with Dinotrux. Not only was it my first TV show, which in turn gave me the opportunity to be a full-fledged self-employed composer and changed my day to day routine, but writing for the show has been an incredible exercise in how to write quickly and efficiently. There's about 20 minutes of very busy and exciting music to be written on average every two weeks. I've had a lot of room to experiment with different sounds throughout the series thus far, and it continues to help develop and better myself as a composer and programmer.
How do you approach finding the tone in each project?
It really depends on the project and what sort of input the creative team has at the beginning. Comedies can be a little tougher; finding a balance between how serious and how playful the music will be is the first step. I'll usually start by picking a few keys scenes in the project, writing some main themes, and presenting them for celebration or decimation.
What would you say has been the most challenging moment of your career?
The most challenging moment was in late 2014: figuring out how to balance two TV shows and have the time that I wanted to be able to spend with my six month old son. I think this is a challenge most composers face: how to balance family and work. In turn, one of the most rewarding has been seeing my now two-and-a-half-year-old son get super excited when he watches an episode of Stinky & Dirty or Dinotrux. He will come into my studio and pick up a red mallet and start banging on drums or guitars. It's great to see him so inspired.
How did you come to discover some of the custom instruments you use?
A friend of mine sent me a text telling me to meet this guy Rich Briggs who has a tent at the Melrose Trading Post about once a month. I found out when he was going to be there next and introduced myself. I asked if he would be interested in doing some custom builds, and he jumped at the chance. From there, we discussed a couple of different ideas. After a few weeks in his workshop, he would text me a picture and I'd go and check it out.
Other percussion instruments I'll find around the house, mainly in the kitchen. When we can't find a bowl or pot in the place it's supposed to be, chances are it's in my studio under a microphone.
What are you most anticipating for the future?
Being able to work on Fox's Absolutely Fabulous and Keeping Up with the Joneses as well as Pixar's short film, Piper, led to a pretty amazing 2016. I'm looking forward to hopefully working with both studios again in the future. Every project brings new challenges, relationships, and friendships; I'm excited for each one!
What advice would you give to a young composer just starting out?
Some of the best education and experience a young composer can receive is through an assistantship opportunity. No matter how much schooling or natural talent you may have, nothing pays off more than learning how to manage real-life situations while sitting next to a working composer. I would highly suggest reaching out to working composers to see if they are looking for any help.
Is there a style of project you have not done yet that you'd like to do in the future?
I would love the opportunity to work on a psychological thriller! Copycat, Silence of the Lambs, The Others, Memento, and almost any Hitchcock film are some of my favorites.
This interview has been edited for brevity and clarity.