Why General Leia Showed Up So Late in 'The Force Awakens'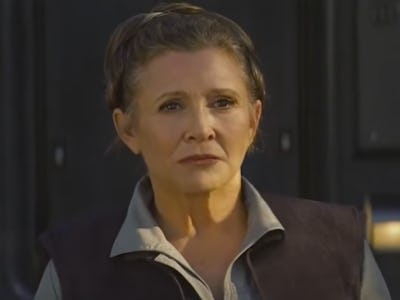 Disney / Lucasfilm
The formidable leader of the Resistance, Leia Organa, made a grand — but late — entrance in Star Wars: The Force Awakens, but it turns out there were a few good reasons for her slight tardiness.
In the original story plans for The Force Awakens, Leia was supposed to appear much earlier. In the commentary for the new Star Wars: The Force Awakens 3D Collector's Edition, J.J. Abrams explained that General Organa's earlier entrance was pushed back to make it more impactful when she did appear.
But, one can hardly blame General Organa herself for when the film chose to depict her getting in on the action. She was pretty busy after all, what with leading the Resistance and everything. In the time before she made her Star Wars: The Force Awakens entrance, she was entrenched in New Republic politics and contending with damaging family secrets detailed in the Star Wars novel Bloodline.
So, before we saw Leia onscreen, she was in the throes of conflict trying to combat the First Order in earnest. As Bloodline outlined, the New Republic didn't take Leia's concerns about the group seriously, partly because they all figured out that she was related to Darth Vader. This put her on the outs with the New Republic's Senate, motivating her to organize a dedicated group of Resistance fighters to take on the First Order.
Leia's existence has never been an easy one, and she's never been content to take on a passive role when it comes to saving the galaxy, whether by way of political savvy or by force. So as much as we wanted to see more Leia in Star Wars: The Force Awakens, we'll take a fashionable lateness in the name of a grand entrance and a galaxy-saving plan or two.
The Star Wars: The Force Awakens 3D Collector's Edition will be released on November 15 and is out now in the UK.