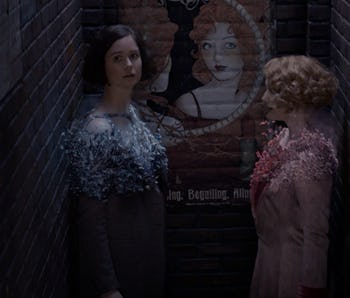 Entertainment
How to Get Into the Magical Speakeasy in 'Fantastic Beasts'
Warner Bros. Pictures / Pottermore
Getting a drink and cutting loose during Prohibition is difficult, doubly so if you're a Potterverse wizard. That's where the '20s-era New York magical speakeasy in Fantastic Beasts and Where to Find Them comes in. The speakeasy in question — the Blind Pig — is equal parts refuge, meeting place, and watering hole, and it's guarded by a magical portrait not unlike the Fat Lady who guards Gryffindor Tower in the Harry Potter books.
A painted lipstick ad on the wall leading to the Blind Pig determines whether or not would-be patrons seeking access are magical beings and grants or refuses entrance, according to Pottermore. The ad was created by MinaLima, the team that's handled the graphic props for all of the Potter films and for Fantastic Beasts and Where to Find Them. It's era-appropriate, but has the subtle touches and flourishes one might expect from the team that's built much of the Potterverse's singular aesthetic.
Pubs have long been an important fixture of the wizarding world, much as they have been in the Muggle world. The Leaky Cauldron is the gateway to Diagon Alley, the Hog's Head has a secret passage from Hogsmeade to Hogwarts, and the Three Broomsticks is the site of many integral events in Harry Potter's story. Pubs in the Potterverse aren't just places to get butterbeer and firewhisky, they are also important locations for meetings and covert gatherings.
We know that Newt and Tina are going to encounter the infamous goblin gangster, Gnarlak, in the Blind Pig. Could this mean this speakeasy will follow the tradition of the Leaky Cauldron and the Hog's Head and become a pivotal location in the film?
Fantastic Beasts and Where to Find Them arrives in theaters on November 18.