The IRL 'Harry Potter' Marauder's Map Is Crazy Accurate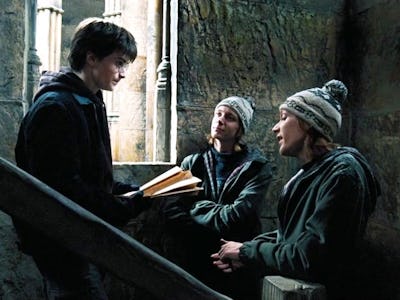 Warner Bros Pictures
The Marauder's Map gives you a license to get into mischief, and Ron, Hermione, and Harry Potter used it to its fullest. But it turns out the movie prop version of the map was almost as cool as the magical version — it was a real map that corresponded to the way the films' production designers conceived of Hogwarts Castle IRL.
In a recent interview, Potter franchise design team MinaLima (Miraphora Mina and Eduardo Lima) explained more about the map's intricate details.
"It's got these flaps and different layers that you can unfold and you're never quite sure where you are… it's an exact trace in terms of form of the architecture that [production designer] Stuart Craig was drawing at the same time for the set, so that it does look credible as a map," Mina said. "If you look closely, you'll see that there are walls, windows, shapes that actually reflect, for example, Dumbledore's office."
MinaLima worked on the design of all eight Harry Potter films, as well as Fantastic Beasts and Where to Find Them. But their work goes far beyond maps. The graphic props in the Potter films were the work of MinaLima — things like the Quibbler, Sirius Black's wanted posters, and the iconic letter addressed to Mr. H Potter of The Cupboard Under the Stairs. If it has words, it falls under their domain. But MinaLima also does floor and carpet design, as well the design for physical props like the Time Turner, the Goblet of Fire, and several of the Horcruxes.
We'll see more of MinaLima's work in Fantastic Beasts and Where to Find Them, so be on the lookout for wordy props like huge signs in New York City or whatever is written on Newt Scamander's passport.
Fantastic Beasts and Where to Find Them arrives in theaters November 18.