Tesla Made Its Biggest Battery Twice as Powerful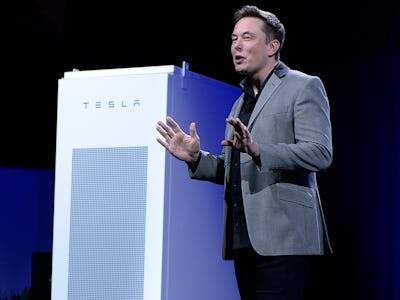 Getty Images / Kevork Djansezian
Tesla announced on Thursday that it made several improvements to Powerpack, an energy storage device that is supposed to help the electric grid make the transition to renewable energy sources. Powerpack 2's battery has double the energy density, a new inverter, and other updates that should make it more capable than its predecessor.
Powerpack was designed to store excess energy for later use. This allows the battery to help make sure energy isn't wasted, provide an emergency backup if the grid fails, and reduce the cost of electricity during peak hours. Powerpack 2's ability to hold more power should allow it to have an even bigger impact on the world's infrastructure.
"As we continue to innovate, scale, and reduce costs of commercial and grid-scale systems, we will significantly accelerate the adoption of renewable energy sources to power our world," Tesla's team wrote, "Ultimately getting us to 100 [percent] renewable energy grids."
These efforts are part of Tesla's recent shift in focus to convert the world to sustainable energy. Powerpack, and its Powerwall companion made for private use, are the vanguard in the company's push to branch out from electric vehicles.
The device will also complement the solar panels sold by SolarCity, which Tesla is trying to buy, and a new solar roof by storing or discharging energy as needed.
Tesla CEO Elon Musk said that this solar roof should be revealed Friday night. In the meantime, Tesla's using Powerpack to enable some of the largest battery storage projects in the world in Southern California and Kauai Island.
Powerpack 2 is being made at Tesla's Gigafactory production facility. The team said the updated Powerpack started shipping in September, and that "nearly 300 MWh of Tesla batteries have been deployed in 18 countries" since they were first revealed to the world in 2015.