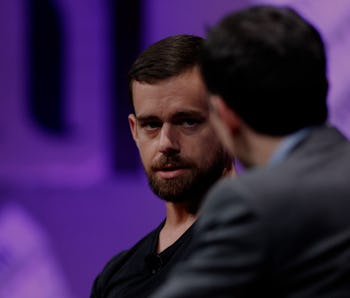 Innovation
Twitter Just Revealed Its "Cool and Really Awesome" A.I. Plans
Get ready for more algorithmic changes to your Twitter feed.
Getty Images / Kimberly White
Your Twitter feed is about to get a lot smarter. CEO Jack Dorsey said Thursday that Twitter will expand machine learning algorithms and artificial intelligence in its core product, and there are changes coming to videos on the platform, too.
"We're focused on adding more machine learning and artificial intelligence to everything that we do," Dorsey said during the company's third quarter 2016 earnings call.
Twitter sees four areas where A.I. will be useful:
As for video, Dorsey said there's plans for A.I. there, too: "We have some really cool and really awesome technology that enables more and more viewership because we can do just-in-time compression," he said. "So we can work on any device type through any network bandwidth, and deliver a high-quality, high-definition experience. And we're just starting to apply that technology to our live experience and also to Periscope."
The company has previewed some of this A.I. already: a recent algorithm addition shows tweets you might like (the "While You Were Away…" feature). The focus on A.I. in these areas suggests Twitter is keen to move further toward an aggregation model rather than a purely chronological feed.
Dorsey also said Twitter "can do a much better job" around topics and interests its users care about, in addition to finding people they might want to follow.
The problem is that this is a criticism that's been leveled against Facebook over the years. Liberal and conservative bubbles could form around users who only see tweets they agree with, due to algorithmic preferences. That means people aren't exposed to conflicting viewpoints. With Facebook, this bias stemmed into a furor over the company's trending news feed, whose human curators were found to favor more liberal viewpoints.
It's not clear how Twitter will avoid slipping into the same trap, or if it cares about that sort of thing:
"If it's Patriots vs. the Chiefs, we can provide a tab that's just for Patriots fans and just for Chiefs fans," offered Anthony Noto, Twitter's chief financial officer. "For debates, just Republicans or Democrats."