The Microsoft Surface Studio's Four Coolest Design Features
The computer's design was conceived with artists and creators in mind.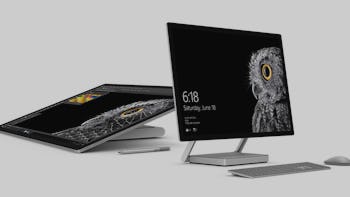 On Wednesday, Microsoft unveiled its Surface Studio, an "all-in-one" desktop computer with a sleek design that rivals competitor Apple's iMac in appearance. Powered by the Windows 10 operating system, the new computer features a 28-inch, 12.5mm-thin touchscreen that's capable of picture resolution up to 13.5 million pixels.
The Studio is packed with 32GB RAM, a 2TB hybrid drive that combines HD and SD storage, four USB 3.0 ports, Ethernet, Audio, SD, and a Mini DisplayPort. The speakers, ports, and drive are contained in a short, square base for a minimalist look.
Hardware aside, the computer's design was conceived with artists and creators in mind. Here are the four features innovative consumers should be looking forward to most:
4. Flexible Design
The Surface claims to be the thinnest LCD monitor ever. It rests on spring hinges that can be pushed down into a tablet-like formation, allowing artists to create true-scale designs. With a light touch, the screen can be pushed or turned to any angle.
2. True Colors
With up to 13.5 million pixels in definition, Microsoft promises to give users the highest definition color seen on any computer. "You need to see life as it was meant to be," Panos Panay, Corporate VP of Devices at Microsoft, said Wednesday during the computer's reveal.
2. Surface Pen
The Surface Pen is already an element of Microsoft's Surface Tablet, but with the Surface Studio it allows creators to write with virtually zero latency for real-time movement. The Surface also has a "pinch and swipe" touch screen that makes it perfect for interacting with a large volume of documents.
1. Surface Dial
One of the most innovative features, announced Wednesday, was the Studio's "Surface Dial," an integrated haptic device that works directly with Windows 10 to help stream workflow into one convenient device. The integrated global controls can do everything from adjusting color and size with a flick to rewinding input from the Surface Pen:
It's amazing to me that Surface Studio makes it possible for me to have my entire creative workflow in one place," said Madefire's Ben Wolstenholme, who demonstrated a creation of his comic during the live event.
The computer, which also comes with an ergonomic keyboard and surface mouse, is available to pre-order now for $2,999.