That New Executioner Stormtrooper Is Probably Captain Phasma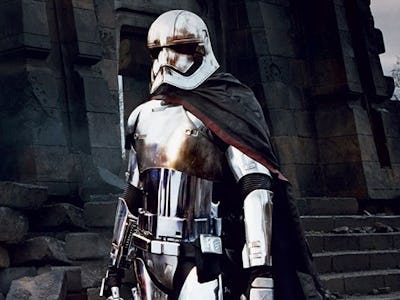 Lucasfilm/Disney
A new rumor suggests Finn might be going head-to-head with a new souped-up Stormtrooper in Star Wars: Episode VIII called "the Executioner." But, since the new Star Wars films already have Captain Phasma, maybe the this rumored "Executioner" is just Gwendoline Christie's imposing badass stormtrooper with some new gear.
Making Star Wars claims the rumored "Executioner" in Episode VIII is said to be distinguished by some black matte running down one side of "his" mask. But maybe "his" mask is "her" mask and this "leak" is referring to a new get-up for Captain Phasma. The rumor also suggests that Finn will have to square off with this "Executioner" stormtrooper in a one-on-one deathmatch, mirroring Finn's duel with FN-2199 in The Force Awakens. But, from a narrative point-of-view, if Finn was be confronted with one stormtrooper who had a score to settle, it makes more sense it would be Captain Phasma, rather than a brand new character. Rogue One is giving us Shoretroopers and Death troopers. Will Episode VIII really create yet another iteration of stormtrooper? In short, isn't this what Captain Phasma is for?
The rumor also says that "the Executioner" will have a weapon that rotates and has three spinning blades. Again, this seems like an awesome kind of weapon to give Phasma in a duel against Finn.
Outside of this being a brand new character, this new "Executioner" character could also be Finn himself. If somebody is rocking a modified stormtrooper get-up, maybe it's a man who once worked as a stormtrooper. Perhaps this plot leak has it all wrong: Finn isn't going to fight the "Executioner", Finn will fight as "the Executioner" against Captain Phasma — to the death!
For now all of this — including the news of the "Executioner" — is pure speculation. All will be revealed when Star Wars: Episode VIII opens on December 15, 2017.