GM and IBM Will Push A.I.-Powered Ads Into Future Cars
Recommendations are provided by IBM Watson.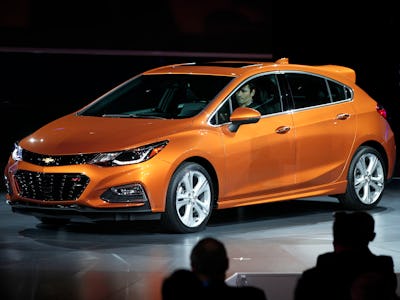 Getty Images / Bill Pugliano
General Motors (GM) and IBM took the wraps off a new partnership on Tuesday that aims to use A.I. to send advertisements to drivers through their dashboard. OnStar Go, the combination of GM's OnStar in-car services and IBM's Watson machine learning technology, will "allow brand and marketing professionals […] to deliver individualized location-based interactions that directly impact their target audiences." In other words, the car will push ads in your face when you're most likely to buy something when it launches in 2017. Chances are, it's something you're probably going to come to tolerate.
GM envisions a future where a father driving home receives a reminder to buy diapers, alongside directions to a nearby pharmacy. The car could also tell a driver when their local store order is ready for pickup, or give restaurant recommendations when driving around a new city. All these are powered by IBM's A.I. technologies, so the car will learn about a driver's preferences and try to make the ads as relevant as possible.
If that all sounds a bit nightmare-ish, you're not alone. Paul Papas, IBM iX global leader, said in a statement that OnStar Go "transforms time wasted in the car into time well spent," but while the standard OnStar provides handy internet connectivity, it's not clear that users were really clamoring for an easier way to interact with brands, while changing lanes.
Unfortunately, this may be a sign of things to come. Cars are only going to grow more connected, and the advent of self-driving cars will make cellular connectivity an imperative. Vehicles will use the data to alert other road users to upcoming dangers, avoiding potential crashes, and AT&T is already working with partners on 5G connections that will prioritize vital data over, say, Netflix streaming.
Acclimatizing drivers to car ads, at this early stage, lays the groundwork for a future where the ads are tolerated as part of the experience. Remember when in-app purchases became a thing on iPhones? Probably not, as they debuted on iPhone OS 3 in 2009, when Apple's phone sales hovered around 5 million per quarter. By 2012, when sales neared 40 million, the early adopters had come to accept that sometimes, games would pressure them to spend money on virtual coins. It's not unreasonable to think that, come the self-driving car rollout, early adopters will have come to accept ads as something they have to grin and bear.