Those Ultra-Fast Link Wifi Kiosks Are Heading to London
Gigabit public wifi is heading to the UK. Your city might be next.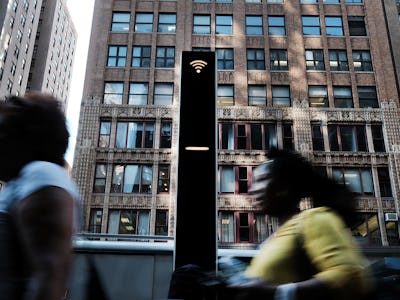 Getty Images / Spencer Platt
Odds are good that you've never once experienced gigabit wifi. If you're fancy, your internet might be 100 Mbps. For reference, that's a whopping ten times slower than gigabit wifi. In January, LinkNYC began installing kiosks around New York City, each of which offer free gigabit-per-second wifi speeds to residents and visitors. Link announced Tuesday that it's expanding to London. And if you live in a major city, you can expect it to come your way in the not-too-distant future.
The Links in New York City were the first of their kind: Free, public, gigabit wifi; free phone calls; free access to community and emergency services; free web browsing on the physical kiosks themselves. There was nothing to complain about — not until homeless people started abusing the built-in web browsers, looking at porn and turning the areas around the kiosks into outdoor living rooms. Link's solved those issues, though, and General Manager Jen Hensley is excited about what's to come.
"We're in active conversations with a variety of cities," Hensley tells Inverse. "We definitely think that the Link model will work elsewhere, as well, and are actively looking at future opportunities."
The London Links, and the greater LinkUK project, are part of "a joint venture between Intersection and Primesight, in partnership with British Telecom," Hensley tells Inverse. London's rollout can shed light on rollouts in other major cities around the world. Link will install the first hundred Links over the next year, and establish a UK office and management team. "Then, the plan is that a minimum of 750 Links will be installed across central London, and in major cities throughout the UK, over the next few years," she explains. "We're in active discussions with the various boroughs, currently, to determine the siting and location of the Links that will follow those first hundred."
It's no small feat to install these kiosks: Link has to work alongside city engineers, plot out wifi coverage, and tear up the streets to install fiber-optic cables. "Any time you dig up a street in a dense urban environment, you have crushed conduit, or cut lines, or other challenges that you have to deal with," Hensley says. "I think we've learned a lot from our close work with the City of New York. The permitting processes and the civil construction that we've done here has really helped shape our approach in the UK."
Link has learned not only from New York City's officials, but also from its residents. They've adjusted the kiosk screens' brightness and the volume of the speaker so as to interfere less with locals. "And then, finally, with the browser, we realized that unfettered access to the internet, on the streets of any major urban city, provides for monopolization of the kiosks, and, really, they're used not in the way that they were originally intended," Hensley explains. LinkUK kiosks, then, like LinkNYC kiosks after the debacle, will not feature built-in browsers. (Link developers are figuring out a workaround to give users "the sort of instantaneous information access that people are looking for when they're standing on a street corner in a city," she says.) Those using the wifi with their own devices are relatively free to do what they so please, but they may wish to remain somewhat wary about privacy.
Aside from the porn, Links have proven a boon to the United States' cultural hub. "The other day, I was in Times Square on 47th Street, looking at a Link with my aunt, who was visiting from California," Hensley recalls. "Hello Kitty, the character, came up and said, 'Hey, you know that thing can make a phone call. You want me to show you how it works?'" A woman from the Bronx showed her two young sons "how to call both her cell phone and 911 from a Link structure in case of an emergency," she says. Not to mention the outrageous (and free) internet speeds.
Hensley says she and her team have learned that "so many New Yorkers really are in desperate need for that level of connection," and they're excited to take it abroad. "Providing them with the fastest available internet, allows them to do all manner of things that they need in order to participate in the 21st century digital world."