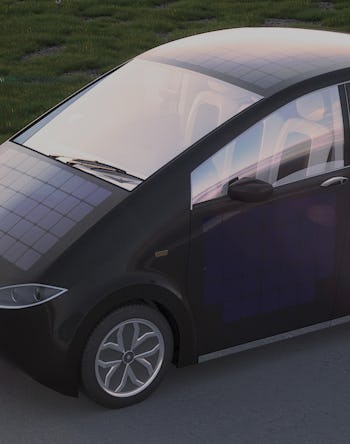 Innovation
Solar Panels Are Moving from Rooftops to Cars
Electric cars are breaking free of rooftop charging, but Tesla's SolarCity buy is still a good idea.
Sono Motors
The first time Robert Bruninga put solar panels on a Prius, the battery caught on fire. "I wouldn't recommend to anybody to do it," he says now.
When his bosses at the U.S. Naval Academy in Maryland would not let him plug in his electric car to charge it during the work day, he took matters into his own hands. Since that first Prius project, in 2007, Bruninga, an electrical engineer, has put D.I.Y. solar panels on every vehicle he's owned, even his Ford Windstar minivan — though he thinks "there's no economic sense putting solar panels on a car."
But there are some benefits that come with taking a few solar panels with you on the road. For one thing, it means he still doesn't have to worry about plugging in his newer Think electric car to power his commute home in the evening. The panels on his Ford minivan are tied into his home's grid when it's parked (Bruninga says 100 percent of his family's electricity is generated by solar panels on the house's roof), and provide electricity for his ham radios when out and about. It may be more efficient to cover the roof of your house in solar panels, but Bruninga says a few panels on your car can't hurt. "I do think it's a good idea, no matter how much I bad-mouth it," he says.
A coming merger of Tesla SolarCity is expected to make it a lot easier to put solar panels on your roof, and use them to charge your Tesla automobile. Company CEO Elon Musk is expected to unveil a roof made entirely of solar panels on Friday night at a Tesla and SolarCity event, which will provide a lot of surface area that can generate electricity for electric vehicles, like Teslas.
Despite the advantages of rooftop solar, panels are starting to show up on cars, and not just vehicles modified by makers like Bruninga. Karma Automotive's Revero, a luxury hybrid vehicle (the base price is $130,000), features a solar panel roof that can add an extra mile and a half to the electric range per day.
A startup based in Munich, Germany, is taking it one step further. Sono Motors has designed an electric car, called the Sion, covered in just under 25 square feet of solar panels, under a shatter-resistant polycarbonate. Those panels add just over 18 miles to the small commuter car's range, for a maximum of 155 miles. The first round of crowdfunding, for prototypes and production costs, was completed back in September, and the company expects to start delivering vehicles in 2018.
Bruninga points out the Sion's solar panel placement is simultaneously smart and costly. Panels on the roof of the car catch summer sun, and panels on the sides and doors catch winter sunlight that is at a lower angle. The problem is, you're "paying for twice as many panels as you're using at a time," he says. "That adds to the cost."
Sono Motors has taken on an ambitious challenge, one that even big car manufacturers have yet to figure out. US safety standards are rigorous, and finding new materials that meet safety regulations is difficult.
Toyota ran into this problem while designing its latest Prius. Japanese and European buyers will have the option to buy a 2017 Prius Plug-in Hybrid with a solar panel-covered roof that will generate a small amount of electricity while driving and when parked, but not plugged in. But the Prius Prime, now available at U.S. dealerships, doesn't have solar paneled roofs. The solar panels on the Japanese and European models are attached to a glass sheet that shatters in roll-over crash tests, which has sent Toyota back to the drawing board for the American model, reported Automotive News Europe this summer.
Sono Motors still has to send prototypes through crash tests for approval in the United States, and Toyota hasn't said when it plans to bring solar panels stateside. We'll see solar rooftops well before an electric car that runs entirely off its own solar panels.
For his part, Bruninga sees electric vehicles as "the answer to 90 percent of our fossil fuel consumption," and if a few solar panels on cars can help, even better.
"When Armageddon comes, as long as your car is parked in the sun, you'll be able to drive a few miles," he says.