Xiaomi's Bezel-Free Mi Mix Is the 'Black Mirror' Phone You Need
Charlie Brooker's uneasy techno-future has come to life.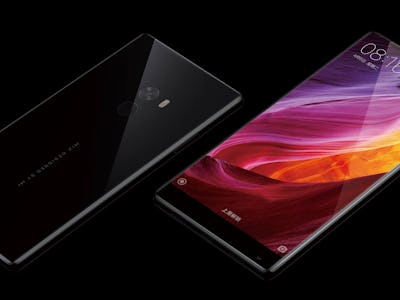 Xiaomi
Xiaomi took the wraps off its Mi Mix concept phone in Beijing, China, on Tuesday, and it looks like something out of the future. Fresh from designing futuristic laptops and affordable drones, the company has turned its attention to making something that wouldn't look out of place on a sci-fi film set. The 6.4-inch smartphone, priced at 3,499 RMB ($517), goes on sale in China November 4, and it looks set to redefine what a phone of the future may look like.
Days after the premiere of the third season of tech thriller Black Mirror, it appears Xiaomi has unveiled a phone that artfully captures the "couple of years into the future" feeling the show strives towards. Although Charlie Brooker et al aimed for something that seemed quite far off, this shot from the episode "Nosedive" shows the only limit to the team's imagination was those bezels.
Xiaomi's creation uses a special audio system to remove the earpiece. The digital to analog converter sends an electric signal to the piezoelectric, ceramic back, which translates that electric signal into mechanical energy fed to the phone's metal frame. The vibrations from the metal reach the ear as sound, removing the need for a separate earpiece. It's not the first phone to try something similar: the Sharp Aquos Crystal also lacked an earpiece, but that phone vibrated the screen instead.
The phone also drops the proximity sensor located at the top, using ultrasonic technology to detect when the user's face is nearby to switch off the screen. The front camera, half the size of most modules, is on the bottom. Finally, to reach the furthest edges of the bezel, Xiaomi developed a custom display with curved corners. The result is a phone that has a 91.3 percent screen-to-body ratio, compared to the iPhone 7 Plus with a 67.7 percent ratio.
The phone also comes in an "18K" version, featuring gold rims around the rear camera and fingerprint scanner. The special edition also ups the base model's 128GB storage and 4GB RAM to 256GB storage and 6GB RAM. Oh, and it retails for 500 RMB ($74) more than the standard model.
Black Mirror may offer a daunting glimpse of technology's impact on our lives, and it may serve as a cautionary tale to ease off the gadgets a little. But let's be honest, when a cool and innovative-looking smartphone hits the shelves, we're still going to fork over money and replace our handset that still works fine.