What an AT&T-Time Warner Merger Means for Game of Thrones
Soon AT&T will rule all of Westeros and Gotham City.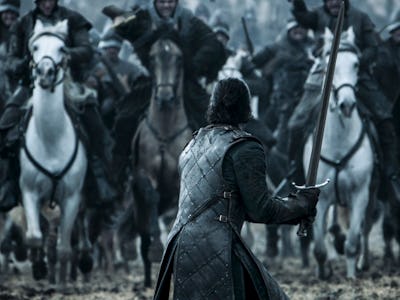 HBO
Your days of catching up on The Sopranos on Amazon Prime might be over soon. According to reports by both The New York Times and The Wall Street Journal, AT&T will formally announce an agreement to buy Time Warner for more than $80 billion on Saturday.
Currently, Time Warner owns HBO, CNN, Cartoon Network, TNT, TBS, Warner Brothers Pictures, and DC Entertainment. It also co-owns the CW with CBS. This means that AT&T could soon own popular series and franchises including Harry Potter, Batman, and Game of Thrones. Currently, HBO has its own streaming service and a deal with Amazon Prime, but an AT&T purchase could mean that many of Time Warner's properties would be brought onto an entirely new streaming service launched by the merged companies.
While it's unlikely that the sale will impact favorite viewers directly, the increasing consolidation of distribution and content companies raises concerns about jacking up prices for consumers. In 2013 Comcast purchased GE's share of NBCUniversal for nearly $17 billion, raising concerns that full ownership over NBC's content would allow Comcast to jack up the prices for bundled services. While an appeals court held up Obama's ruling on net neutrality stating that Comcast had to provide the same internet speed to all content regardless of ownership. Still, major digital streaming often bend the rules to maximize profits. It's possible that AT&T could pull a similar stunt with its streaming. That might mean that owning more content could be a good thing for AT&T users but bad for the rest of us.
AT&T already owns satellite television provider DirecTV. The $50 billion purchase of DirectTV made AT&T the biggest paid television provider as well as its second-largest wireless operator. A Time Warner acquisition would make them the biggest communications and media conglomerate in the country. Time Warner is third only beyond Comcast (which owns NBC Universal) and Disney in market value with an estimated value of $29.2 billion in revenue last year.
The deal, which has yet to be officially announced, would still need to be approved by federal regulators.