Voice Actors Go on Strike Against Major Video Game Companies
The largest actors union in Hollywood demands better pay and safer conditions for working performers.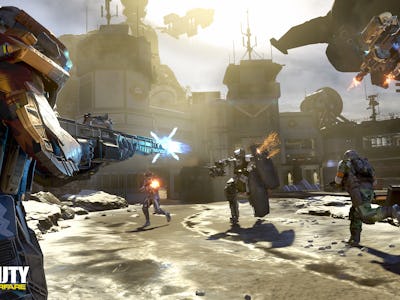 Activision
A powerful group of video game actors and performers have gone on strike against several major industry publishers today after union negotiations lobbying for better pay and working conditions have failed to reach an agreement. Here's what that actually means.
The strike appears to be the last straw for voice actors represented by the Screen Actors Guild American Federation of Television and Radio Artists (SAG-AFTRA), who have spent the past 19 months attempting to reach an accord with some of gaming's most prominent corporations over bonuses for successful games, and better safety conditions for members, who are often susceptible to damaging their voices during long and intense recording sessions.
SAG-AFTRA's decision to strike against major players like EA, Activision, Warner Bros. and Grand Theft Auto publisher Take-Two Interactive does not come lightly. The union had been laboring to change the current system of payment, asking for an overhaul that would give performers secondary payments for games that sold over 2 million copies, up to 8 million. That specifically includes only games in production after February 17, 2015.
The union is also asking for increased transparency for actors when discussing new projects, who currently aren't informed what game a potential role is for before signing on.
Instead, the companies in question reportedly offered the union a 9 percent increase in pay as well as bonus payments for actors per session of up to $950. The offer, which SAG-AFTRA has called a "freeloader model," was rejected Thursday, with the union citing fair living wages for working class actors.
While union representatives have publicly stated a strike is not their preferred option, it is the only way to ensure their voices are heard with regards to fair treatment. Performers affected had been working under the Interactive Media Agreement, which ended in 2014, through negotiations. Union members will picket in front of EA's offices on Monday.
Despite the game companies stating that SAG-AFTRA — the largest actors union in Hollywood — represents only a fraction of actors in games on the market, the strike could make a significant impact on the industry.
With the companies involved in the strike, new, unannounced productions for massive moneymakers like Call of Duty and Star Wars (from Activision and EA respectively) could be affected, resulting in delayed games that could end up costing them much more than bargaining at the negotiation table might have. SAG-AFTRA represents a number of influential names in the voice acting community, including Jennifer Hale (voice of Shepard in Mass Effect) and David Hayter (historically known for the voice of Solid Snake in Metal Gear Solid).
For their part, the corporations have argued that a new payment system allowing for secondary payments based on successful projects is not feasible because video games are a fundamentally different medium than film. Statements like that may also rankle others working in video games who are not already unionized, the vast majority of the industry.