Keep the Self-Lacing Shoes, We'll Take the Car
Next year, Marty McFly and Doc's time-traveling DeLorean will hit the streets.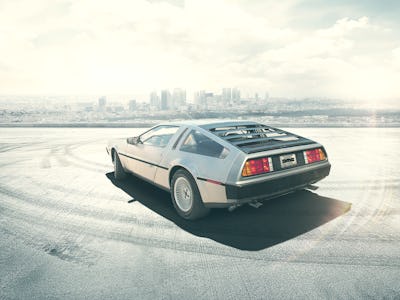 DeLorean Motor Company
The DeLorean Motor Company started accepting pre-order applications for the 2017 DeLorean DMC-12 this week. It's part past, part future; the same exterior, same gull-wing doors, but with a modernized interior and new guts. And it's made by a unique car company, one staffed by fans.
"I personally first found out about the DeLorean through Back to the Future, just because of my age," DMC Service Manager Sarah Heasty told Inverse Wednesday after landing in Tokyo, where she was visiting with local DeLorean owners for fun. "The whole story of the company itself — and the cocaine, and John — had already blown through the media and been gone."
"All I saw was this really neat car in a movie."
Thirty-four years ago Tuesday — on October 19, 1982 — John DeLorean, purveyor of the original DMC-12, was arrested with 55 pounds of cocaine worth $24 million. He was later acquitted, but his car company was in shambles. In 1985, Back to the Future featured Mr. DeLorean as himself, along with his time-traveling car. This Friday is exactly one year after the day to which Marty McFly and Doc traveled.
At the time of its demise in 1983, DeLorean had plans to build 30,000 cars per year after selling just 9,000. In 1995, the new DeLorean Motor Company (DMC) started fixing up and rebuilding those originals, using the leftover parts to keep it honest, and streamlining designs based on the original engineering drawings. These days, Heasty says, DMC is trying to produce DMC-12s anew.
Both Back to the Future and DMC-12s are once again enjoying the limelight. As Doc and Marty's time travel anniversary rolled around, we heard rumors of a Back to the Future Part IV; this year, Nike started producing Marty's self-lacing shoes, the Nike Mags. DMC could well capitalize on that resurgence.
"We really do have to give credit to Back to the Future," Heasty says. "To me, that movie is really what kept the DeLorean from becoming another Tucker, or another Bricklin — just one of those oddball cars that someone came up with and just came and went.
"We get phone calls about it where people say, 'Hey, I've seen this movie — is it really true that this is still around as much as it is?' It gets people really excited."
Since it first went online, DMC has received about 600 pre-orders. (All are non-binding, and primarily serve to gauge interest.) Thanks to the Low Volume Motor Vehicle Manufacturers Act, which Congress signed into law last year, those reservations will start becoming cars, and soon. Only the fine print is preventing DMC from putting "newly-VIN'd, 2017-model DeLoreans on the road," Heasty says.
The 2017 DeLorean will be marketed as a replica, but it'll be an updated version. For starters, it will have a new engine, one that complies with EPA requirements, and better brakes. The silhouette must look the same, but the interior will be redesigned. Heasty says they're hoping to install all-in-one infotainment centers, complete with a touchscreen, navigation, and a back-up camera, all of which should make the DeLorean more palatable to the modern aesthetic. "That was always the weak link of the 1980 DeLorean. The electrical system definitely could've been better."
The original DMC-12 was supposed to cost $12,000; it wound up retailing for over $25,000, which some blamed for the company's failure. Today, that's equivalent to about $66,000. But with its numerous likely facelifts, and with its adherence to regulations, Heasty says they're expecting it to be "around a hundred grand." How soon they hit the roads is basically up to the government; already, she explains, the government postponed its own deadline to finalize everything. But they're aiming for about this time next year. Just don't get impatient: Production will probably start very, very small.