Twitter Is Sending Assange GIFs to Waste His Cellular Data
Ecuador has cut off the Wikileaks founder's internet access.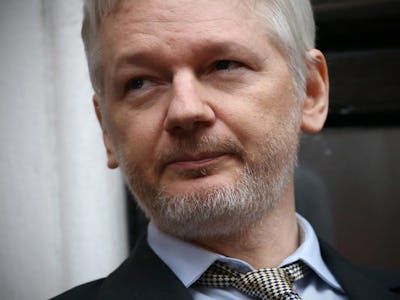 Getty Images / Carl Court
Twitter users are sending Julian Assange their favorite GIFs to try and use up his smartphone data allowance, after Ecuador confirmed on Wednesday it had cut off his embassy internet access.
The Wikileaks founder, currently taking refuge in the country's London embassy, has been using the building's internet since 2012 to continue leaking classified documents to the world. Earlier this month, the site leaked a number of emails from John Podesta, which revealed Hillary Clinton's potential choices for vice president and ex-Blink-182 member Tom DeLonge's interest in UFOs.
Hillary Clinton's team has claimed the emails were leaked by Russian hackers trying to undermine the election. Ecuador decided to cut off access as it felt that Assange's activities could influence the U.S. presidential election, and the country wanted to respect the principle of non-intervention.
"In that respect, Ecuador, exercising its sovereign right, has temporarily restricted access to part of its communications systems in its UK Embassy," a statement from the Ecuadorean foreign ministry said (translated by the BBC). "Ecuador does not yield to pressures from other countries."
It has not been confirmed how, if at all, Assange is still connecting to the internet. That didn't stop enterprising Twitter users from deciding that, on the off chance Assange is using his smartphone, people should send some pictures his way to use up his monthly allowance.
This sparked a new hashtag, #SendPicstoJulian, where people shared some of their favorite images that Assange simply has to download right now. Alex Horne decided to send an image of a man stealing venetian blinds on Sunday.
Users later realized that GIFs tend to take up more space than standard JPEGs, leading to the hashtag #SendGIFstoJulian.
Some opted to send Assange scenes from cartoons.
Although users are including the Wikileaks username in an attempt to get Assange's attention, evidence suggests that multiple people run the account. If Assange doesn't have internet now, there's a high chance someone else with access will have cleared the notifications.
Ecuador did not specify how long it would restrict access for, meaning Assange could be tethering for a long time to come.