Orbital ATK's Cygnus Spacecraft Will Soar to the Space Station on October 17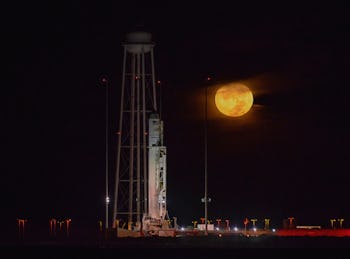 Getty Images / Bill Ingalls/NASA
Update: The launch of Orbital ATK's Antares rocket will be postponed 24 hours due to a ground systems issue. Currently there are no issues with the rocket or the spacecraft. The launch is now scheduled for October 17 at 7:40 p.m. ET. (You can read the original post below.)
After a two-year hiatus and two weather delays, Orbital ATK is ready to launch one of its Antares rockets. At 8:03 p.m. ET on October 16, the night sky will illuminate as Antares lifts off from NASA's Wallops Flight Facility off Virginia's eastern shore, carrying a fully stocked Cygnus spacecraft to the International Space Station (ISS).
Tucked inside the silvery, keg-shaped spacecraft is over 5,000 pounds of supplies, scientific research (including some fiery new experiments), and valuable new hardware that will improve the quality of science conducted on the orbital outpost.
NASA is conducting more fire-related research during this mission, with experiments looking at both hot and cool flames. The Saffire experiment's second iteration will look at the nature and behavior of fires in space, while the cool flames experiment will investigate how this type of flame evolves, which could lead to more environmentally-friendly combustion engines.
See also: NASA's Next Resupply Mission is Going to be Lit
The ISS already hosts some pretty sweet research investigations, but NanoRacks — one of the agency's commercial partners — wants to up the ante and take science to the next level. By focusing on the station's most unique aspect — sustained microgravity — and fine tuning it, the company aims to provide researchers with a more pristine environment.
The space station orbits the Earth at a speed of roughly 17,150 mph, and just like with any vehicle, the crew (and more importantly the science) are subjected to a few bumps and jitters along the way. These vibrations can affect the outcome of certain experiments.
If scientists want the best data possible, they need a way to mitigate even the tiniest of vibrations. The controlled dynamics locker, will act like the suspension on a car, allowing researchers to completely isolate research experiment from all vibrations.
"Precise control will create repeatable and programmable conditions," Scott Green, principal investigator at Controlled Dynamics explained during a pre-launch press conference.
Researchers on the ground can also control the settings within the locker, and even add vibrations back in. This is especially advantageous in crystal growth experiments and stem cell research.
"Controlled disturbance can be advantageous like with protein growth experiments," Green said. "Added disturbances can bring more nutrients up to crystals without disturbing them."
So set your alarms space fans, because the five-minute launch window opens tomorrow at 8:03 p.m. ET. If the skies are clear, the launch should be visible for most of the east coast. This handy map will help you catch a glimpse of the rocket as it blasts Cygnus into space.