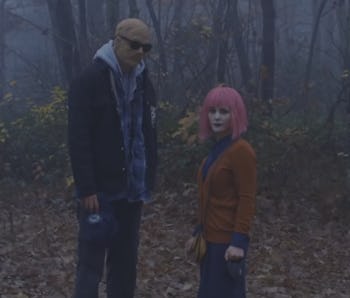 Entertainment
Halloween 2016 Is the Perfect Time to Watch 'Little Sister'
Pre-election and pre-Halloween, there's never going to be a better time to add 'Little Sister' to your Halloween prep viewing party.
Forager Films / Nice Dissolve / Wraith Films
Nothing says "autumn in an election year" like weed cupcakes, GWAR, and black lipstick. An original, signature blend of oddities, nostalgia, and weirdness, Little Sister (in theaters and on iTunes now) is the perfect pre-Halloween movie to help you channel your inner goth kid and grapple with the political shit-storm we're all weathering.
SXSW fave Little Sister jumps back in time just a tad to 2008, when America's yards were crowded with Obama/Biden signs, and the idea that certain words would become a key part of political discourse might've been laughable. Pussy, for instance, or deplorables.
This isn't a story about politics, but 2008's political landscape provides a backdrop that will likely take many millennials back to the first election they ever voted in. Little Sister is largely about embracing your weird and accepting that you can and should be more that what people expect of you, and that message is timeless.
The film follows Colleen, a young nun living in Brooklyn who's into edgy performance art, God, and GWAR. She's approaching her first vows when she receives an email from her mother (whom she hasn't spoken to in years) telling her that her brother, Jacob, is out of the hospital and back home following devastating injuries sustained while he was serving in Iraq.
Borrowing a car from the Head Nun, Colleen drives home to Asheville, NC, and finds herself very much out of her element with her own family, even Jacob, though the two were very close growing up. Jacob's withdrawn, but when Colleen dyes her hair the same shade of neon pink she rocked in high school and dons some black lipstick, she succeeds in reconnecting with him over GWAR's "Have You Seen Me?"
As Colleen and her family struggle to understand one another and realize they want different things from life, they stumble upon a somewhat unconventional, mended family dynamic.
The bulk of the film takes place over six days leading up to Halloween, and though it's definitely a Halloween movie, it occupies a space that's perhaps more typical of Christmas and holiday films. Where we might often expect our Halloween movies to be scary in keeping with the spirit of the holiday itself, Little Sister is about family and the tension that often accompanies everyone being back home and under the same roof. It treads the familiar ground of reconnecting with high school friends over the holidays and realizing that you've all changed, but frames it in the context of something entirely different. The mistletoe and carols are replaced by fake vampire fangs and edibles.
Halloween isn't just the perfect time for horror movies — it's also perfect for preparing to slip into the season that's full of family (for better or for worse) and for embracing that another year is drawing to a close and that we're all changing, moving further away from the people we were as kids, further away from the people our parents knew so well, and further away from the burden of expectation with our families. Though Little Sister was completed well in advance of the most troubling parts of this 2016 election, it's kind of a timely salve for those who find themselves weary and embittered by its course.
Director Zach Clark told Deadline, "There's no better month to watch Little Sister than October, and I'm so excited to be bringing the movie to audiences in the midst of Halloween and this totally insane election."
Little Sister is timely in that it carries some of the casual (if uncomfortable) politicization of spending time with family approaching an election, but it also gives us something of a sweet, odd family film that isn't weighed down by the traditional holiday film tropes and played-out conventions. But mostly, it's a weird fucking delight that reassures us that, "Everybody in the whole world thinks bad things sometimes. It's going to be okay."
Now is the exact right time to check out Little Sister, but don't be surprised if it becomes a new staple of your annual Halloween viewing. Sometimes there's no better monster movie than the one that makes it clear that we're kind of monsters. But we're in good company.
Little Sister is out now in select theaters and on iTunes.