Obama Says "I'm a Nerd! And I Don't Make Any Apologies for It."
Science, the President admits, is "cool stuff."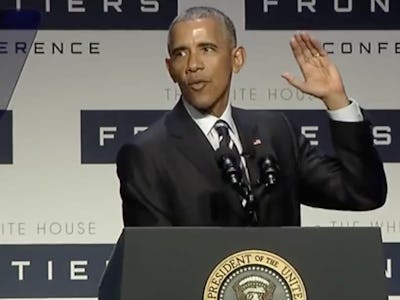 President Barack Obama is capping off an epic week for science by cementing his rep as a nerd. Speaking at the White House Frontiers Conference in Pittsburgh today, a raucous crowd cheered as he proudly proclaimed:
"I am a science geek. I am a nerd, and I don't make any apologies for it. It's cool stuff."
The conference, co-hosted by the University of Pittsburgh and Carnegie Mellon University, focuses on innovation, with an emphasis on building.
Obama, delivering the opening remarks before a panel discussion on brain science and medicine, drove home the importance of science in America's past, present, and future. He expressed his frustration that those at the forefront of the nation's political system "willfully ignore facts" or "stick their heads in the sand about basic scientific consensus."
Bringing to a close an especially nerdy week that involved touring a Mars-bound space capsule, viewing a set of "quad-copters," and successfully docking on an International Space Station simulation ("I stuck the landing!"), Obama threw shade at fellow politicians that stood in the way of the nation's scientific pursuits.
"It's not just that they're saying 'climate change is a hoax' or taking a snowball on the Senate floor to prove that the planet's not getting warmer," he said, arguing that politicians that gut funding for research not only prevent the development of potentially life-saving technology, but also stifle the creation of new jobs, industries, and military plans that adhere to the very ideology that America stands for. "That's not who we are," he continued.
Calling attention to the fact that one of the nation's founding fathers was an early discoverer of electricity, he emphasized the need to continue supporting America's scientific endeavors, citing the country's previous scientific triumphs over its international competition.
"Sixty years ago, when the Russians beat us to space, we didn't deny that Sputnik was up there. That wouldn't have worked! No — we acknowledged the facts and we built a space program almost overnight, and then beat them to the moon," he said.
That spirit, he said, is what makes America "the engine for innovation around the world" — and is of the utmost importance to uphold. In other words, in a political landscape that still employs people who deny climate change and the belief that rape victims can't get pregnant, it's more important than ever to heed and support the country's nerds. Recounting America's successful attempt to become the first country to get a close-up look of every planet in the Solar System, the President beamed.
"That's where facts will get you. That's where science will get you."