Nerds Eviscerate Alex Trebek for 'Losers' Dig
Fans of nerdcore hip-hop aren't pleased with the formerly mustachioed 'Jeopardy!' host.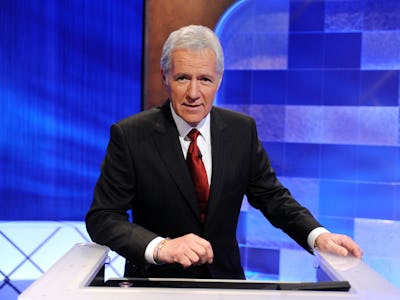 Getty Images / Amanda Edwards
On Wednesday night's episode of Jeopardy!, contestant Susan Cole tried to explain nerdcore hip-hop to Alex Trebek. She describes it as "People who identify as nerdy rapping about the things they love: video games, science fiction, having a hard time meeting romantic partners." The longtime host then responded, "Losers, in other words?" While Trebek's savage roast might have gotten some chuckles from the audience, diehard nerdcore fans are calling out the host for his insensitive, ignorant assessment of both the genre and the culture surrounding it.
Trebek softened his blow by saying "I tease, I tease" afterward, but it doesn't make up for how quick he was to shit on Cole and her nerdcore comrades. She wanted to share this fact about herself and Trebek used the moment to shut her down. This sort of taste policing might be funny to some, but people who have dedicated a lot of time into something that's generally a little more fringe like nerdcore end up being the butt of the joke. It's also feels passé to belittle geeky subjects when Stranger Things and Marvel movies are blowing up the entertainment space. The caricature of the nerd as basement dweller doesn't really make sense any more.
Naturally, people turned to Twitter to call the grey-haired host out for his comments. Many of the "losers" pointed out that Jeopardy!, a gameshow where contestants duke it out using trivia, would be nowhere with nerds.
Some are a little more direct about their feelings.
Others are taking the opportunity to highlight how important nerdcore is the artists that celebrate it.
And Trebek has even caught the attention of prominent nerdcore rapper Mega Ran. He had a couple of things to say to the gameshow host who unnecessarily ragged on his craft.
Trebek might have called Cole and her friends "losers," but the legislative librarian from Bowie, Maryland, was anything but that on Wednesday night. She crushed her competition and earned $20,600. The nerdcore fan will be back for Thursday night's episode and you better believe she's got a lot of people rooting for her.