Darth Vader Arrives in Emotional Final 'Rogue One' Trailer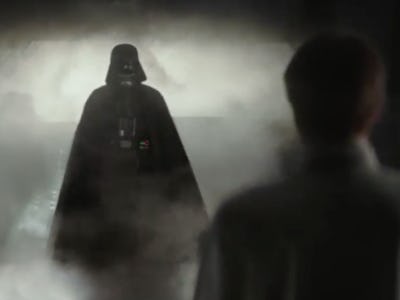 Disney/Lucasfilm
The final trailer for Rogue One: A Star Wars Story is here, and it's the most heartfelt glimpse of the highly anticipated movie we've seen yet.
Debuting October 13 on Good Morning America, the new trailer begins with a flashback to Jyn Erso as a child seeing her father — Galen Erso — for the last time. As many suspected, there will be legitimate flashbacks, a first for a Star Wars movie. And, though we've always know Jyn's father was partially responsible for designing the Death Star, it now looks as though the mission of Jyn and her Rogue One squad is not just to steal the Death Star plans, but more specifically to track down her father because he is "critical to the development of the superweapon."
With a stirring new score, and an epic entrance from Darth Vader, this is the Rogue One trailer we've been waiting for. If this doesn't make you feel like joining the Rebellion, nothing will. "Hope" is the name of the game here and as Forest Whitaker's Saw Gerrera says: "Save the Rebellion! Save the Dream!"
We're with you.