The Life and Death of a Cult Webcomic and Its Fake Author
Richard Scooperman's 'Little Boys Room' took the imagination of Chicago hostage for three years, but now what?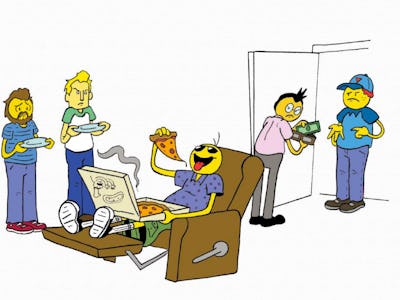 Stephen Winchell
Little Boys Room was a cult hit web comic by an artist who, technically, never existed.
For three years, Little Boys Room, an indie comic produced in Chicago, was a favorite of comedians, writers, and comics enthusiasts across the country, who adored it for its droll and absurdist wit. That the author listed on the hundreds of strips of Little Boys Room — which ended its run last week — is 22-year-old Panera Bread employee Richard Scooperman, made it even more compelling.
Richard Scooperman was never real. Sure, there are photos of him — they're actually of Chicago to LA comedian Chris Stephens — and he had an extremely active Facebook profile for the duration of the comic strip. He even made some "live appearances" at Chicago comedy shows. But true fans who did their homework learned pretty quickly that comedian and artist Stephen Winchell was the man behind the curtain. (And yes, someone absolutely called the Panera in Grand Forks, North Dakota to see if there was any record of a Richard Scooperman in their employment records. They did not.)
Your average Little Boys Room comic strip consists of a normal person expressing anything in a sincere way, then being mocked mercilessly by Scoop, the tastemaker of his own universe. There were two main rules to this universe: Scoop is never wrong, and everyone and everything else sucks. Drawn longhand and in black and white, it was at first rough and scribbly, then became more structured as the years went on.
"It's aggressively adolescent and an homage to all of those toothless 'bad attitude' mascots from the '90s," Winchell told us.
"Little Boys Room is my comic and it kicks ass," Scooper piped in, fictionally.
To the surprise of its obsessive fanbase, Little Boys Room ended rather abruptly last month after hitting its three-year anniversary. In that span, hundreds of comics had been produced, thousands of fans were engaged, and the comedian who played Scooper had made live appearances in Chicago to the thrill of his dedicated fans. And it was all done, largely, for free — Winchell made some t-shirts and sold some prints, but Little Boys Room was free to read online and on social media. Scooper even hung out and interacted with anyone and everyone on Facebook and Twitter.
"I think that was my brain realizing that I didn't have too much else to say in that super-specific Little Boys Room voice," Winchell said, explaining his decision to end the strip. "I tried to make it work for a couple months, but it became pretty clear that the two of us had to part ways."
At the end of the day, even Winchell admits, Scooper was an avatar for himself, which he used to express any bizarrely specific biases or frustrations in a concise, productive space. "I was coming off of a really tough breakup when I first started the comic, and I was feeling pretty angry and petulant," he said. "I was able to mold those feelings into a sort of escalated adolescence. As damning as it is to admit, the comic is just an amplified version of me. I guess the biggest difference between us is that Scoop knows how to skateboard."
Skateboarding is one of Scooper's specific intense interests, of which he had many. That was the whole appeal of the Scoop, an unhinged twenty-something living with his mom who held insanely specific opinions and the confidence of someone far more deserving of such self-assurance. He's the standard post-grad contrarian who feels intensely about stupid things for no reason in a way that seems pretty unique to young dudes who attended high school in the early 2000s. Some things Scooper likes: pro wrestling, the band Guster, Frasier. Some things Scooper hates: brunch, voting, coffee, safety, reading. Also, his grandfather was stabbed, which was noted quite often.
For Winchell, maintaining the comic and the character were two connected, but unique operations. While he started it with the objective of getting three comics out a week to keep himself on a deadline, the scope and ambition of the project expanded as quickly as his audience.
"Being a regular human man was almost always on the backburner," he said of keeping the strip on schedule, which it was for more or less the entire three years it was published. "Once I got into the groove of it, my endgame was to make a Garfield for millennials."
For fans and the artist himself, the reality of Scooperman, perpetually trapped as the megalomaniac manager of a North Dakota Panera Bread, was a key part of the operation, if a more time-consuming one. Scooper is modeled in the history of impressive meta-authors before him — Winchell cites Spinal Tap, Stephen Colbert's right-wing character in The Colbert Report, British comedy series Garth Marenghi and Onion conservative cartoonist Kelly (actually satirical writer and artist Ward Sutton) as inspiration for the author of Little Boys Room. The thoughts and actions of Scooper's "life," whether it was a day spent lashing out at Pitchfork or the day his grandpa got stabbed, informed whatever would manifest in Little Boys Room the next day.
Opening the Scooper character to interaction with anyone who found him on social media brought a level of interaction that blew the doors off the relatively static medium of webcomics. "I think it's a little selfish not to keep your readers in mind when you make something specifically for them to read, so whenever people liked certain comics or characters, I'd do whatever I could to bring those things back," Winchell explained, before getting philosophical about both comics, and life itself. "Sometimes you step up to the plate and hit a home run with a comic about the Baha Men, and sometimes you eat dirt with a comic about the history of the Shamrock Shake."
Since the retirement of Little Boys Room, Winchell's launched himself into an equally bizarre webcomic called Aquaman's Beach Party with artist Shawn Bowers. This is Winchell's first project where his personal opinions and biases are a little further from the page (ironically, he's using his real name for this one), but the silliness and confidence in the face of insanity that made LBR a hit can still be detected in his new initiative.
"Beach Party is the first of many stories where Aquaman has to save his beach from bad-time bummers who want to shut it down," he says of the project, which launched this fall. "Future villains include greedy millionaires who want to build mini-malls, preppy fraternity brothers who want to use the beach for their regatta, and ghost pirates who don't want any beach partiers to find their buried treasure."
So, what do you do when you build a cult webcomic empire and destroy it yourself? If Winchell's body of work is any indication, you build another.
And to answer the question on everyone's mind — did Scooper ever lose his virginity?
"No," Winchell confirms. "And he never, ever will."