Marvel's Rebel Anti-Avengers Just Drafted One of the X-Men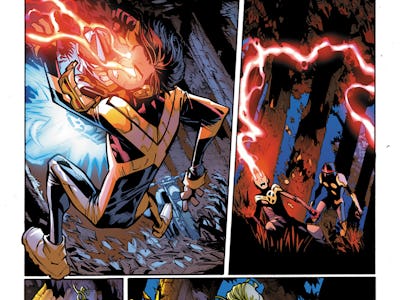 Marvel Comics, Humberto Ramos
Marvel's newest superhero team, the Champions, came about when Spider-Man, Nova, and Ms. Marvel literally gave the Avengers the finger and spun-off to form their own, cooler, younger superhero team. Now, Cyclops wants in on the action, but from the looks of it the feeling isn't mutual.
Feeling disheartened by the aftermath of Civil War II, Ms. Marvel decided to leave the Avengers, whom she felt were largely responsible for the war in the first place. Trying to start a more socially-conscious team, she ropes in Miles Morales's Spider-Man, Nova, Amadeus Cho's Hulk, and even Viv, the Vision's daughter, to form the Champions.
While the first issue was a little on-the-nose about how "woke" this new superhero team was, it's undeniable that the diversity within the team allows for some really unique stories and avenues to handle contemporary topics. Ms. Marvel appears keen to lead a team that cares almost more about the people they save rather than how many bad guys they take down.
In a brief description included with the previews, it mentions that Cyclops was inspired after watching the Champions take down a sinister human trafficker, and he wanted to join them in hopes that it might allow him to avoid becoming his future self. He's the younger version of a Cyclops who leads a mutant team intent on fighting humans, so this Cyclops keeps a low profile to avoid unnecessary provocation with the mutants his older self might have harmed.
The best thing about Marvel's Champions is how strong a line-up the team is. Ms. Marvel and Miles Morales are already fan favorites, and the inclusion of Cho, Nova, and most surprisingly, Viv, makes the team just a joy to read.
Cyclops is a bit of a wet blanket though, so it will be interesting to see how the team will handle his nonsense.
Yep, that's one way to deal with him, I guess.
Champions #2 will hit comic book stores and digital marketplaces on November 2, 2016.