How to Switch to Google Pixel From Your iPhone
Welcome to the dark side.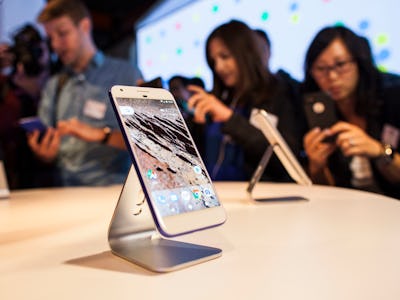 Getty Images / Ramin Talaie
So, you've decided to jump ship. The Google Pixel is the answer to a game Apple's been playing for years, offering a smartphone built from the ground-up by the company itself, as opposed to its Nexus phones that were built in collaboration with third parties. The integration offers a seamless experience that may finally give Apple a run for its money. Little wonder you're making the switch.
Unfortunately, there's no official solution for easily moving everything over. Apple makes a move to iOS tool, downloadable from the Google Play store, that moves most of the data over. Google has not released an iOS tool, but moving stuff over manually is simple enough. Here's how.
Contacts and calendars
Before we start, you'll probably need a Google account if you don't have one already. Once you're set up, put your details into your iPhone by going Settings > Mail > Accounts and add the new account. To transfer your contacts and calendar, flip the switches on the respective categories. When you unwrap your new Pixel and input your details, the details should transfer over automatically.
The above assumes you haven't been storing your contacts and calendars in iCloud. If you have, the process is a bit longer, but still simple. For contacts, go to iCloud.com on a computer, then Contacts > Settings cog > Select All > Settings cog > Export vCard. Once exported, visit Gmail.com, then Mail > Contacts > More > Import > Choose File and point your browser at those exported contacts.
For calendars, visit iCloud.com on a computer, then Calendars > Share button next to the relevant calendar > Public Calendar > OK. Copy the web address into your browser bar, change "webdav" to "http" and hit enter. A file should download with all your calendar entries, which you can feed into Google by going to Google Calendar > Down arrow next to Other Calendars > Import Calendar. Then pick the downloaded file and Google should do the rest.
Media
For music, Apple offers Apple's Music for Android, as doe Spotify and Tidal. You can transfer your iTunes collection onto Google Music, which works similarly to iTunes Match in that it scans your library and matches it with cloud-based versions for easy access. Download the Music Manager, point it to your iTunes, and let Google take care of the rest.
For photos, the easiest way to move them across is to use Google Photos. Download the app to your iPhone, then sign in, go to Menu > Settings cog > Camera and Photos > Back up & Sync. Your old photos should populate on your new iPhone.
Hardware
Obviously, cases won't transfer over. Google has a number of official designs, including photo cases to personalize your device. You may want to factor that in to protect your new purchase.
For electronic accessories, both devices use wifi and Bluetooth, so your high-end wireless headphones and internet connections should work fine. Apple stores wifi passwords in iCloud Keychain if enabled, but there's no way to transfer this data to Android, so you'll have to reconfigure your networks.
Unlike the iPhone 7, the Google Pixel has a 3.5mm headphone jack built in. The phone uses USB-C, a universal mobile standard that Apple uses for its set top boxes and MacBooks, but has so far refused to use for its iPhone range. The proprietary Lightning connector won't work with USB-C phones, so any fancy docks will have to go in the trash (or you can donate them to a nice charity store). It sucks, but with the amount of hate Apple got last time the connector changed, it's easy to see why it might not change for a while.