Celebrate 75 Years of Wonder Woman with These New Stamps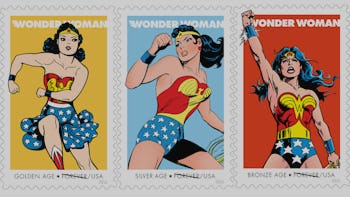 U.S. Post Office
The most iconic female superhero of all time turns 75 this year. To celebrate, the U.S. Postal Service teamed up with DC Comics and Warner Bros. Consumer Products to honor Wonder Woman with a set of badass postal stamps.
A special ceremony was held today for their first day-of-issue dedication at New York Comic Con. Among the attendees were the U.S. Post Office's Chief Information Officer Kristin Seaver, USPS Art Director Greg Breeding, DC's Vice President of Franchise Management Amit Desai, DC Artists Cliff Chiang and Jose Luis Garcia-Lopez, and Host of "DC All Access" Tiffany Smith.
Tiffany Smith regaled the crowd with stories of how she fell in love with Diana Prince's alter ego at a young age after watching her mother dress up as the Amazonian princess for Halloween. "Today is a really special day not just for DC, but for Wonder Woman, because she's getting her very own Forever Stamp from the United States Postal Service in honor of her 75th anniversary," Smith explained.
Seaver added that Wonder Woman creator William Moulton Marston was ahead of his time, foreseeing the future growth of power of women.
When Wonder Woman debuted in 1941, America was a very different place, especially for women. "She gave girls the wherewithal to take flight and dream as big as anyone," Seaver said. "Wonder Woman confidently brushed aside any notion of gender barrier her power was in her fierce independence."
Wonder Woman is a star not just among comic book heroes but really across the whole spectrum of popular culture, beloved by fans (in particular women and girls) from all walks of life. What better way to share her legacy with future generations than with a set of commemorative stamps?
The four stamps series includes Wonder Woman in the Modern Age, by Cliff Chiang, Wonder Woman's Bronze Age by José Luis García-López, Wonder Woman's Silver Age by Irv Novick, and Wonder Woman's Golden Age by Jon L. Blummer.