Celebrate International Observe the Moon Night on October 8
Go outside and wink at the moon tonight.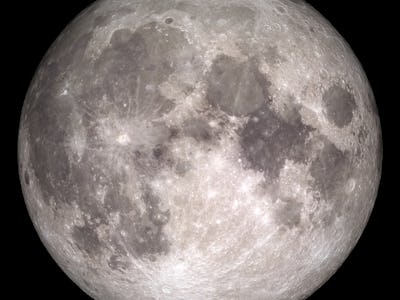 NASA/Goddard/Lunar Reconnaissance Orbiter
Dust off your telescopes, lunar lovers, and get hyped for the best day of the year to celebrate the big cheese in the sky. Today is the sixth annual International Observe the Moon Night (InOMN), so it's as good of a time as any to appreciate our closest celestial neighbor.
This year's global event just happens to take place during World Space Week, and falls on Astronomy day (which is celebrated in both the spring and fall).
Everyone around the world is encouraged to not only go outside and observe the moon, but also to learn more about our planet's only natural satellite. InOMN was launched in 2010 and is sponsored by NASA's Lunar Reconnaissance Orbiter, the Lunar and Planetary Institute, and NASA's Solar System Exploration Research Virtual Institute (SSERVI).
NASA's Lunar Reconnaissance Orbiter has been a helpful tool for scientists, and allowing us to better understand how the moon formed as well as determine how much water is on the moon (which will be vital to future missions). The satellite has also beamed back some incredible views of the lunar surface, which is the best look we're going to get until someone physically goes back.
Both InOMN and NASA have a plethora of resources ready to get you better acquainted with our celestial neighbor, so be sure to check them out. To find events in your area visit the official website, or you can sign up to host your own. If it's too cloudy in your area to see the moon, LRO is here to help.
For those lucky folks who live in the D.C. area, you can party with NASA tonight. The Goddard Spaceflight Center will be celebrating in interplanetary style beginning at 6 p.m. Eastern. You can find all the details here.
If there are no events in your area, celebrate virtually with people around the globe by following InOMN on Twitter.
So grab your friends, grab your telescopes, and join the fun. After all, the moon is our first line of defense against aliens.