How Does Kennedy Space Center Prepare for a Hurricane?
By preparing for the worst and hoping for the best.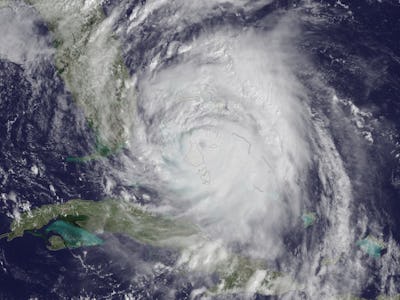 NOAA
NASA can breathe a sigh of relief as the heart of the space program, the iconic Kennedy Space Center, survived a close brush with Hurricane Matthew on Thursday and Friday. Space launch operations should, for the most part, be unaffected.
KSC is lucky — to say Hurricane Matthew is a beast is not an understatement. The storm went through an explosive growth process and morphed into a major hurricane in less than a day thanks to a supply of warm Atlantic seawater. The risks to KSC were extremely high. Matthew ravaged Haiti, Cuba, and the Bahamas, causing major damage and killing over 300 people, before setting its sights on Florida.
The storm begs the question: how does KSC prepare for a storm like this? Moreover, is it even possible to brace the facility's buildings and equipment from such extreme forces?
Floridians are well aware of the risk hurricanes pose; it's part of the price the state pays for balmy weather conditions when winter weather covers most of the countr in snow.
Those benefits are what first persuaded NASA to set up shop in Florida and establish the region as the "space coast" when it took its first steps towards the stars. Launching rockets over the ocean, whether it's at KSC, or any of NASA's other coastal facilities, provides a buffer in case things go wrong (and from time-to-time, they certainly do).
However, as this week illustrated, the area has to contend with storms and rising tides every so often. When it became clear that the space coast was expected to be directly in the storm's path, both Kennedy Space Center and the Air Force's 45th Space Wing did the only thing you can do: prepare for the worst and hope for the best.
Easily the worst storm to hit the space coast since the space center opened, Matthew was expected to pack quite a punch, with winds of 130 mph and higher. Facilities were secured, and the area was cleared of any debris that could be a potential projectile if picked up by the hurricane's massive winds.
The $11 billion spaceport then closed its doors at 1:00 p.m. Eastern Time on October 5, all non-essential employees were sent home, and residents were encouraged to evacuate. Only a skeleton crew stayed behind to ride out the storm.
The space center's historic 526-foot high Vehicle Assembly Building, an adjacent 380-foot-tall mobile launch platform, and surrounding launch pads were buttoned up and left to weather the storm.
When KSC was first constructed, engineers wisely ensured the buildings could handle extreme winds. Most of the facilities can withstand winds of 105 mph, with the VAB, launch pads, and launch control centers equipped to hold up against winds of 125 mph. Newer buildings (constructed after Hurricane Andrew) are even more robust and can survive winds over 130 mph.
Representatives of KSC's newsline and officials at United Launch Alliance tell Inverse there were no vehicles on any of the pads. Two high-dollar satellites being prepped for launch were safely tucked inside hurricane-rated buildings.
Disaster crews won't be able to fully assess the damage at KSC until Saturday, but preliminary reports indicate the spaceport fared better than expected thanks to the slight shift in Matthews trajectory.
NASA's George Diller reported that the space center experienced minor power outages and no major damage despite sustained winds of 103 mph. Preliminary reports do indicate some roof and siding damage, but all in all, nothing serious.
The worst of the storm is now over, and crews will begin to survey the area on Saturday morning. If the damage is minimal, we could expect to see the next launch from Cape Canaveral on November 4, as the GOES-R satellite blasts into orbit atop a United Launch Alliance Atlas V rocket.
While KSC dodged a bullet, it's hard to argue the facility was anything but ready for nature's wrath. That's excellent news not just for NASA, but for all other commercial spaceflight companies moving to Florida and hoping to expand operations to bigger and better things.