How to Delete Your Yahoo Email Account in 5 Steps
Yahoo's users should flee from the service.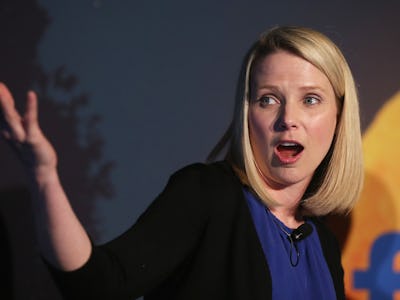 Getty Images / Mario Tama
There's never been a better time to delete a Yahoo account.
News broke in September that 500 million Yahoo accounts were hacked in 2014. The company has blamed a "state-sponsored actor" for the hack, which is said to have compromised the names, email addresses, telephone numbers, passwords, and birthdays of the half-billion people it has affected. Yahoo is working with the FBI to investigate the hack and its ramifications.
But the company's problems didn't stop there. It was revealed on October 4 that Yahoo secretly helped the U.S. government spy on every single email its users received in 2015. While the exact nature of the spying is unknown, many have criticized Yahoo's decision to snoop on its users without their consent, and together with September's hacking news, it makes Yahoo email very insecure.
Yahoo doesn't make it easy for people to delete their accounts. It isn't a simple menu item within the Yahoo Mail interface, and users have to jump through several hoops to finally convince the company that they do in fact want to use an email service that doesn't hide massive hacks or assist with government spying. (So far as we know, anyway.)
Here's the easiest way to delete a Yahoo account:
1. Back up your Flickr images, if you have them
Yahoo isn't going to let people delete their accounts without a fight. Because the company owns Flickr, the popular photo-saving tool, it will automatically delete someone's Flickr account when they choose to delete their Yahoo account. All of Flickr's images and metadata will be immediately and permanently deleted. If you have any important photos saved to the service you should download them now.
There isn't an easy way to download all these photos — Flickr does not provide an easy backup tool to its users. You'll have to either organize your photos into albums or spend a lot of time clicking on each individual item in the site's "camera roll" to download them. Once that's done, though, you can safely delete your Yahoo account without having to worry about losing any cherished images.
2. Change important services over to a new email address
You'll want to make sure Facebook, Amazon, and other services are set up to work with a new email address before you delete your Yahoo account. Many of these sites will send confirmations to the email address on file before changes can be made — a security feature that makes it harder for people to take over an account — so deleting your Yahoo account first is bound to cause headaches in the future.
Another step could be a quick forward of critical messages from the Yahoo email address to the new one. Many people use their inboxes to store information about upcoming trips, work projects, and other important messages. Better to make sure those are available at the new email system than to lose a reservation number for a hotel or a critical presentation for work that wasn't saved to your computer.
3. Sign in to Yahoo for the last time
Once you've done all that, sign in to your Yahoo account one last time. See if there's anything you've missed. Were more photos uploaded to Flickr since you backed them up? Did you forget about a service that needs your new email address? Do one last scan through the messages in your inbox, pour one out, then prepare to jump through a few hoops to finally delete the account forever.
4. Visit this page and fill out the relevant information
Don't bother trying to find an option to delete your Yahoo account in its menu. Just visit this page or, if you sign in via phone number, this one. That will take you to a page warning you about what will happen if you delete your account: Everything associated with the account, supposedly, will be purged.
Next you'll have to scroll down, enter your password, and then examine a box filled with floating numbers and letters. (You can also request to listen to an audio version if you have trouble with the visual one.) Type the correct sequence and hit "Terminate this Account" under the giant "Yes" at the bottom of the page. If you typed in everything correctly you'll be taken to a confirmation screen.
5. Wait for Yahoo to actually delete your user data
Yahoo holds on to user data for up to 90 days. This is meant to ensure that people who accidentally delete their accounts (it happens) can regain access. Once those 90 days are up, that data is deleted … at least from the company's active database.
"Please note that any information that we have copied may remain in back-up storage for some period of time after your deletion request," Yahoo explains on a page about its user data and privacy practices. "This may be the case even though no account information remains in our active user databases."
So your data could still be somewhere on Yahoo's servers. But at least new emails won't be at risk of hacks on the email service, which has a history of not disclosing problems to its users until several years have passed. Bid adieu to the sad purple giant and enjoy your new, hopefully more secure, email service.