Expert Creates Ultimate Travel Cheat Sheet for Free Airport Wifi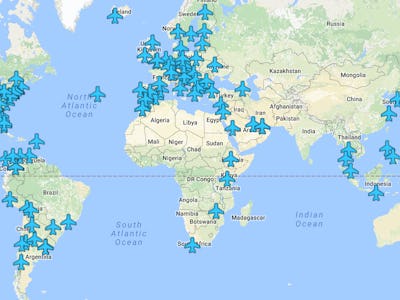 Anil Polat/Google Maps
Ever been stuck in an airport lounge with no internet access? Of course you have, it comes with the territory. Security expert Anil Polat to the rescue: his ultimate travel guide not only provides user-supplied wifi passwords to get online for free, but also comes with handy top tips on best practices to boost connections.
Polat has been maintaining his map of wifi passwords since April, with the last update on October 1. Readers are invited to add their discoveries to the map through either commenting on his blog or emailing him with any new discoveries.
In an ever-more-connected world, not having internet access is a surprisingly stressful situation, and airports are kind of the worst for this. It's the perfect storm for losing connections: airports are big, normally located in a foreign country (so chances are no phone service or local credit card details, and lack the niceties of somewhere like a coffee shop, where staff want to help you get online. With plenty of time to kill, not having internet means resorting to trashy airport novels and tiny packets of food just to pass the time. Oh, and heaven forbid, your flight gets delayed.
On his blog, Polat also provides a number of top wifi tips, like plugging in your laptop or investing in a USB adaptor to extend wireless range. After connecting, Polat also has tips on how to avoid airport time restrictions.
The fear of missing out resulting from not having an internet connection is only going to get worse. Silicon Valley is working hard to get the last two billion people online, and more users means more content, which means all the more reason to whittle away hours refreshing Facebook. Bookmark Polat's map: next time you're shanghaied into skulking around Shanghai airport on a layover, you'll thank him.