'Logan' Will Allegedly Introduce the Next Wolverine, X-23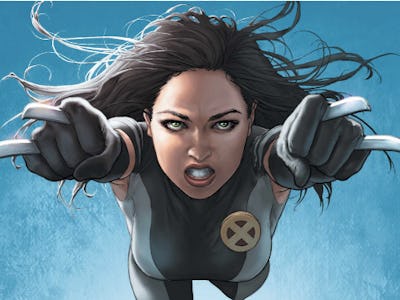 Marvel/ Avengers Academy 23
Even Wolverine isn't immortal. The third, and final, standalone Wolverine film Logan will be a dark, hard-R interpretation of the Adamantium-clawed X-Man's "Old Man Logan," storyline, but it won't stop there. The mantle of Wolverine will live on — there is another, and her name is X-23.
According to a new report by The Wrap, a Logan "insider" confirmed that part of Logan's plot will involve a government program to turn mutant children into killing machines. One of those children is almost definitely X-23, a young girl that Logan mentors and protects from her government captors. Director James Marigold and star Hugh Jackman teased other plot details yesterday, and The Wrap's new information seems to fall in line with that.
In the comics, X-23 is a government superweapon engineered from Wolverine's own DNA. She has two claws, instead of three — just like the child Logan takes under his wing, according to The Wrap's source. The source also claims that the film takes place in 2024 when mutant births are declining.
Here's the poster, which shows the young mutant's hand.
In the comics, X-23 has a long, extremely troubled, and tortured backstory, but it appears that Fox's X-Men universe will take more of a shortcut to her tutelage under Wolverine, setting her up to assume the mantle. After Marvel's "Secret Wars" storyline, X-23 became the All-New Wolverine, wearing a suit similar to Wolverine's iconic black and yellow X-Men jumpsuit.
Logan hits theaters March 3, 2017.